Route 66 - Bus Tour:
Chicago Illinois to Los Angeles California!
Sit back, relax, and let us handle the driving and details while you enjoy traveling on legendary Route 66!

Make the dream of a 2023/2024 vacation a reality today. Book this trip and lock in a price for your vacation. Please note that 2024 departures are subject to itinerary and price modification, but by booking and depositing today, you will lock in your price.
Follow legendary Route 66 and see how Americans traveled from the 1920s through the 1960s. This historic route begins in Chicago, travels through eight states, and ends in Los Angeles. On this Route 66 tour, you'll get the opportunity to travel to some of the cities along Route 66, visit many of the Route 66 museums, and step back in time to when the journey was part of the fun.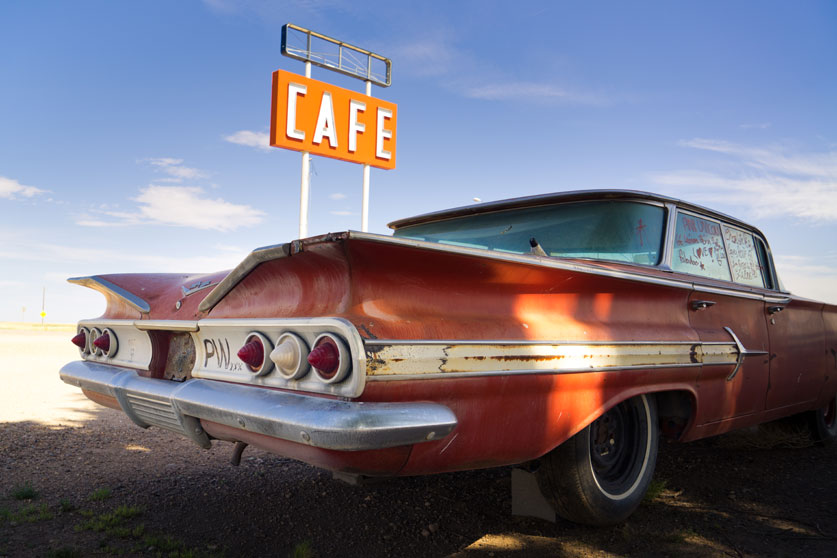 Route 66 at it's best
Visit Pontiac's Route 66 Hall of Fame & Museum, which features memorabilia from the heyday of Route 66. In Oklahoma. At the National Route 66 Museum in Elk City, antique cars and historic documents help you feel what it was like to travel Route 66. In New Mexico, visit Russell's Car Museum, featuring classic cars and memorabilia. Travel though Williams—in Arizona—listed in the National Register for Historic Places and where you'll see neon signs of the intact circa 1940s "Motel Row." Before arriving at the end of Route 66 in Santa Monica, California, visit the California Route 66 Museum, which houses a collection of historic artifacts and photographs related to Route 66 and the Mojave Desert communities.
This tour also deviates from Route 66, so you can see breathtaking scenery at the Grand Canyon and experience the excitement of Las Vegas. In Springfield, visit the Abraham Lincoln Presidential Museum, and in St. Louis, witness amazing views of the city and the Mississippi River from the top of the 630-foot-tall Gateway Arch.
These are just some of the many highlights of this Route 66 tour designed for value-minded travelers.
All our escorted vacations use a motor-coach on the touring portion of the itinerary. Motorcoaches have luxurious upholstery, reclining seats, headrests, footrests, individual air vents, and huge panoramic tinted windows which guarantee an unobstructed view.
Route 66
Tour dates (English)

May 11, 2024 - May 26, 2024

May 26, 2024 - Jun 10, 2024

Jun 08, 2024 - Jun 23, 2024

Jul 06, 2024 - Jul 21, 2024

Aug 24, 2024 - Sep 08, 2024

Aug 31, 2024 - Sep 15, 2024

Sep 07, 2024 - Sep 22, 2024

Sep 14, 2024 - Sep 29, 2024

May 10, 2025 - May 25, 2025

May 24, 2025 - Jun 08, 2025

Jun 07, 2025 - Jun 22, 2025

Jun 14, 2025 - Jun 29, 2025

Jul 05, 2025 - Jul 20, 2025

Jul 12, 2025 - Jul 27, 2025

Aug 23, 2025 - Sep 07, 2025

Aug 30, 2025 - Sep 14, 2025

Sep 06, 2025 - Sep 21, 2025

Sep 13, 2025 - Sep 28, 2025
Tour fee: US$2,910 per person (all departures 2024) - US$3,360 per person (all departures 2025)
Rate(s) are per person, based on double room occupancy. We do not offer quad rooms on this tour. Children discount is 10%. The only age restriction is staying in Las Vegas they need to be with one adult that is at least 21 years old.
Day 1: Arrive to
Chicago

,

IL

Welcome to Chicago, the start of Route 66! Your Tour Director is on hand late this afternoon to answer questions.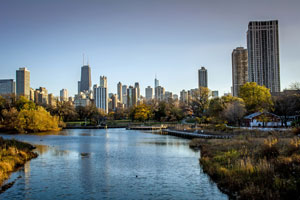 Chicago, IL
Day 2: Chicago, IL
Known as the "Windy City," Chicago is home to America's 2nd tallest building, legends such as Al Capone and his notorious gang, and countless jazz and blues clubs. Get to know this exciting city on a morning sightseeing tour that includes the sign marking the start of historic Route 66.
This afternoon is at leisure. Ride the elevator to the top of the Willis Tower, formally known as the Sears Tower, explore The Magnificent Mile or stroll along Navy Pier.
Breakfast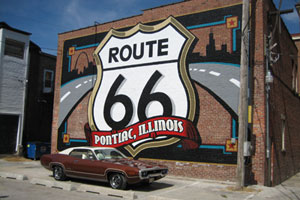 Pontiac's own world's largest painted Route 66 shield mural
Day 3: Chicago, IL - Springfield, IL
This morning, immerse yourself in Route 66 memorabilia. Visit the ROUTE 66 HALL OF FAME & MUSEUM in Pontiac, housed in a historic fire station. See the large maps that will sketch out your Route 66 adventure for the coming days, and enjoy the nostalgic photos and postcards from the "Mother Road's" heyday.
On to Springfield and the former home of President Abraham Lincoln. Visit the ABRAHAM LINCOLN PRESIDENTIAL MUSEUM.
Breakfast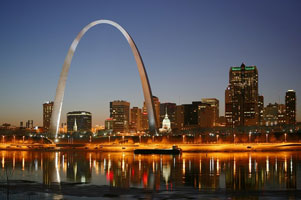 Gateway Arch in St Louis, MO
Day 4: Springfield, IL - St. Louis, MO
Cross the mighty Mississippi River and continue to St. Louis, "Gateway to the West." Your orientation tour includes the towering GATEWAY ARCH. Ride to the top of the 630-foot-tall Arch for a panoramic view of the city and river.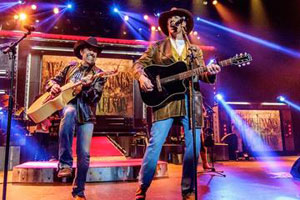 Show in Branson, MO
Day 5: St. Louis, MO - Branson, MO
Today we travel through the Missouri countryside, then on to Branson, one of America's biggest music centers.
Join us this evening for our optional award-winning buffet dinner and one of Branson's top shows.
Breakfast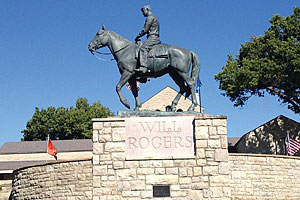 WIll Rodgers Memorial Museum: Claremore, OK
Day 6: Branson, MO - Oklahoma City, OK
This morning, leave the Ozarks and travel through America's "Bible Belt" into Cowboy Country. After a quick drive through Kansas, enter Oklahoma, once known as Indian Territory, later today, arrive in Oklahoma City.
Breakfast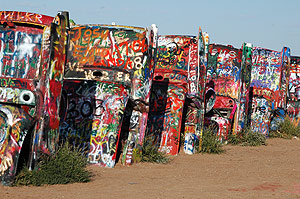 Cadillac Ranch, near Amarillo, TX
Day 7: Oklahoma City, OK - Amarillo, TX
Start the day with a city sightseeing tour of Oklahoma City, the capital and largest city in Oklahoma. From here, travel to Elk City and visit the NATIONAL ROUTE 66 MUSEUM and take a journey through each of the eight states Route 66 passes through—from Illinois all the way to California. Continue into Texas and on to Amarillo, the state's oil capital. Get into the Lone Star spirit tonight with our optional dinner of juicy Texas steak, served with heaps of Wild West atmosphere.
Breakfast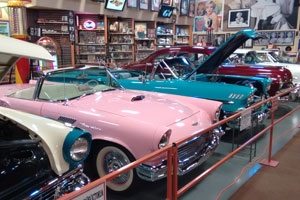 Russel's Car Museum
Day 8: Amarillo, TX - Albuquerque, NM
On the way out of Amarillo, see Cadillac Ranch, a quirky art sculpture consisting of a collection of 10 Cadillacs. Before crossing into New Mexico, reach Adrian, the halfway point on Route 66. Across the New Mexico border, visit RUSSELL'S CAR MUSEUM, featuring classic cars and memorabilia that takes you back to the heyday of Route 66. Next, stop in Tucumcari and shop for souvenirs at Tepee Curios, and see the neon signs of the Blue Swallow Motel that has been serving travelers of Route 66 for 84 years! Continue along old Route 66 west to Santa Rosa. Look for the signs of the good ol' days: Comet Drive-In, Silver Moon, Sun and Sand, and the still-grinning faces of Fat Man billboards outside of town. Next, visit Central Avenue in Albuquerque, where many of the original Route 66 buildings and businesses still stand. Afterward, there's free time in this original Spanish town with its fine parish church and Spanish-style plaza.
Breakfast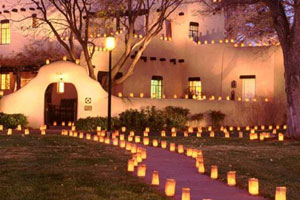 Old Town - Albuquerque, NM
Day 9: Albuquerque, NM
This morning, enjoy a leisurely breakfast or sunbathe in the New Mexico sunshine. Consider a short walk to Old Town, site of the city's original settlement. Hone your bargaining skills with the local craftsmen who line the square to sell their lovely silver and turquoise jewelry. After exploring more of this atmospheric city, seize the chance to ride the world's longest aerial tramway up nearby Sandia Peak Mountain and witness spine-tingling views of the desert floor, forests, and canyons below.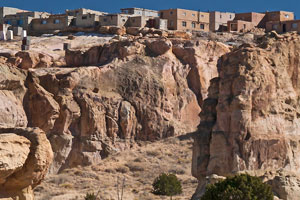 Acoma Sky City near Casa Blanca, NM
Day 10: Albuquerque, NM - Williams AZ
September departure only (Baloon Fiesta)
Stand in awe as you experience the pre-dawn opening ceremonies and the unforgettable Mass Ascension where hundreds of hot air balloons take off, turning the sky into a virtual rainbow of colors. What began as a gathering of 13 balloons in 1972 has since turned into the largest ballooning event in the world.
All other departures
Visit ACOMA SKY CITY, home of the Pueblo Indians, situated on 357-foot-high sandstone rock. It is considered to be the oldest continuously inhabited village in the United States. Learn about this city and its inhabitants, and peruse Acoma pottery and jewelry.
---
Then, cross the Continental Divide and continue to Gallup, which claims a longtime Hollywood connection. From Redskin, filmed in 1929, to the more recent adventures of Superman, the area has provided unequaled movie scenery. Tonight is in Flagstaff, nestled at the base of the San Francisco Mountains.
The next two nights are in Williams, gateway to the Grand Canyon, and listed in the National Register for Historic Places. The Historic Downtown District covers six square blocks and boasts a rich heritage that features the Old West and Route 66.
Williams is listed in the National Register for Historic Places. Make sure to appreciate the neon signs of the intact circa 1940s "Motel Row."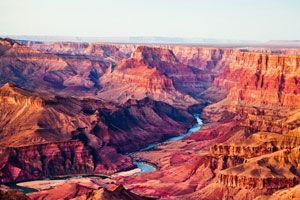 Grand Canyon, AZ
Day 11: Grand Canyon National Park AZ
Deviate from Route 66 to see one of the Natural Wonders of the World, GRAND CANYON NATIONAL PARK. Wander along the canyon rim for breathtaking views.
Perhaps join the optional helicopter flightseeing tour. Overnight inside the national park.
Breakfast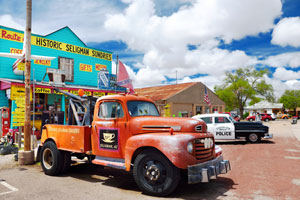 Seligman, AZ - a classic Route 66 little town
Day 12: Williams AZ - Las Vegas NV
Depart for Seligman, home to the rebirth of Route 66, taking some of the best Route 66 asphalt. Detour once again from Route 66 to visit the bright lights and excitement of Las Vegas.
An orientation tour upon arrival shows off many of the themed casino resorts along the colorful "Strip". This evening, join an optional night at a dazzling show featuring top Vegas entertainment.
Breakfast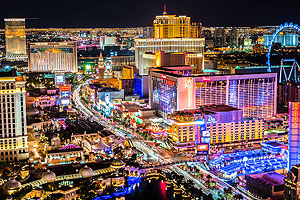 Las Vegas Strip, NV
Day 13: Las Vegas NV
A day at leisure to relax by the pool or explore the world-renowned Las Vegas Strip. Ride the world's highest rollercoaster, float through a Venice canal, or see man-eating sharks up close—it's all possible in Las Vegas. Don't miss downtown Las Vegas, where you'll find the Fremont Street Experience, five city blocks enclosed in a glass atrium and filled with dazzling lights, sounds, and action.
A variety of optional excursions are available, including a float trip through dramatic Black Canyon on the Colorado River. This evening, join an optional night at a dazzling show featuring top Vegas entertainment.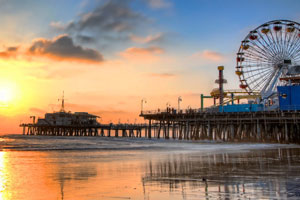 Santa Monica Pier, CA
Day 14: Las Vegas NV - Victorville CA - Los Angeles
Today, depart the man-made phenomenon of Las Vegas and cross the Mojave Desert and the San Bernardino Mountains en route to Los Angeles. Visit the CALIFORNIA ROUTE 66 MUSEUM in Victorville CA, which displays a collection of historic photographs and artifacts, settings as a 50's diner, VW Love Bus and the 1917 Model T Ford related to Route 66 and the Mojave Desert communities.
Continue on to Santa Monica, the ending point of Route 66. Overnight in Los Angeles, the "Capital of Glamour."
Day 15: Los Angeles CA
Savor the exciting "City of Angels" on our morning tour of glamorous Beverly Hills, Sunset Strip, Hollywood, and more legendary sights. The rest of the day is yours to perhaps enjoy Disneyland® or Universal Studios®, shop for souvenirs, or relax by the pool.
Day 16: Los Angeles CA
The trip ends today with guests departing on individual schedules. Transfers to Los Angeles International Airport are included. You can extend your vacation with extra nights and explore Los Angeles further with a variety of exciting optional activities.
Vacation Highlights
Sightseeing: In Chicago, Oklahoma City; orientation in St. Louis and Las Vegas, Route 66 Hall of Fame & Museum, Abraham Lincoln Presidential Museum, Gateway Arch, Elk City National Route 66 Museum, Russell's Car Museum, and California Route 66 Museum.
Tickets are included for Route 66 Hall of Fame & Museum, Abraham Lincoln Presidential Museum, Gateway Arch, Elk City National Route 66 Museum, California Route 66 Museum. Russell's Car Museum does not need a ticket but is included.
Scenic Highlights: Route 66, Acoma Sky City, Grand Canyon National Park, and Route 66 icons: Cadillac Ranch, Tucumcari, and Las Vegas
Guides: Services of a professional Tour Director.
Hotels
CHICAGO Hotel Saint Clair (superior tourist class)
SPRINGFIELD Wyndham Springfield City Centre (first class)
ST. LOUIS Drury Inn & Suites St. Louis Convention Center (moderate first class)
BRANSON Comfort Inn at Thousand Hills (first class)
OKLAHOMA CITY Sheraton Oklahoma City Downtown Hotel (superior first class)
AMARILLO Country Inn & Suites Amarillo West (superior tourist class)
ALBUQUERQUE Best Western Plus Rio Grande Inn (superior tourist class)
WILLIAMS Comfort Inn Near Grand Canyon (moderate first class)
LAS VEGAS Sahara Las Vegas (moderate deluxe)
LOS ANGELES Westin Bonaventure (superior first class)
Meals: 8 breakfasts
Start City: Chicago, IL
End City: Los Angeles, CA
Pricing is per person and for twin accommodation
Chicago O'Hare International Airport: US$65.00 per car (Flash Cab)
Single Room Supplement: US$1,155.00
Triple Room Reduction per person: US$245.00
Additional accommodations before or after your tour may be available.
If you don't need the hotel in Chicago isn't a way to remove it from the pricing due to our contracts with our hotel and onsite partners.
Tour bus: 48-57 deluxe reclining seats, restroom, air-conditioning, DVD/TV.
Travel Protection Highlights:
Travel Protection: US$249.00 per person
Coverage if you have to cancel for any reason
Reimbursement of airfare booked with us or on your own when canceling for a covered reason
Coverage for vacation interruption when modifying for a covered reason
Lost or damaged baggage protection. Plus, Baggage Track to help get your luggage back if it goes missing by an airline
24-hour worldwide emergency phone support
Pre-existing medical condition covered (see certificate for limitations)
This Travel Protection we offer is available to all citizens and permanent residents of the U.S. and Canada. Travelers of other nationalities will need to purchase independent coverage and there are alternate options available here:
The insurance can be purchased until the final payment is due, this is usually 60 days before tour commences.
Booking this tour requires name(s) and US$250 per person non-refundable deposit. Until deposit is received, space is based on availability.
Final payment for your vacation is due 60 days prior to commencement of services.
Booking Cancellation & Fees
If a booking cancellation is received by our company prior to the final payment date of your vacation, your non-refundable land deposit and Travel Protection payments will be retained.
Standard Cancellation Fees:
Travel Protection payments are always non-refundable once purchased and will be added to the cancellation fees noted below.
60-22 days prior to commencement of services: 20% of total price
21-8 days prior to commencement of services: 30% of total price
7-1 days prior to commencement of services: 50% of total price
On departure day and later: 100% of total price
Payment
Bank transfer
Personal check
Credit card: subject to a 5% finance charge, which will be added to the total order/charge
Cancellation fees may also apply to any additional services, including extra night accommodations, independently supplied services, and optional excursions reserved prior to, during, and after the tour.
We reserve the right to cancel or reschedule any vacation departure for any reason, including insufficient demand or force majeure. If a vacation is canceled prior to departure, our company only responsibility will be to refund the amount received for the reservation. We will try to rebook the same vacation with a different departure date, or a similar vacation, but there is no guarantee of availability of offering.
A change of traveler name, vacation date, or itinerary within final payment will be treated as a full cancellation and new reservation; vacation and airfare cancellation fees will apply.
We follow a mandatory, daily seat rotation on motor-coaches. For the enjoyment of all passengers, you must adhere to the rules of the Tour Director regarding seat rotation. Alcohol consumption is not allowed on board.
Many local laws require the use of seatbelts while traveling. When seatbelts are provided, you are responsible for wearing your seatbelt. Our company is not liable, nor are our service providers, for any injury, loss, damages, claims, or death resulting from any accident or incident if you were not wearing your seatbelt at the time of the accident or incident when the motor-coach is equipped with them.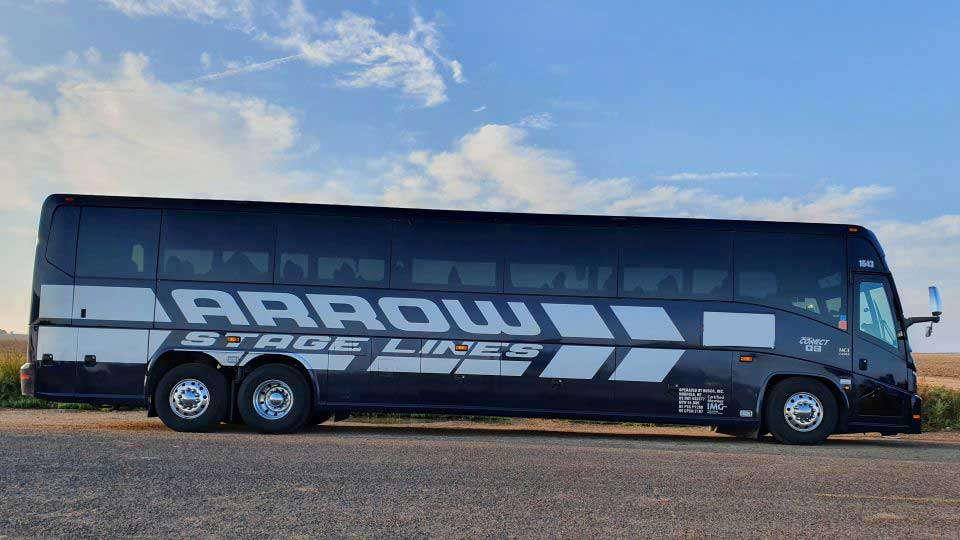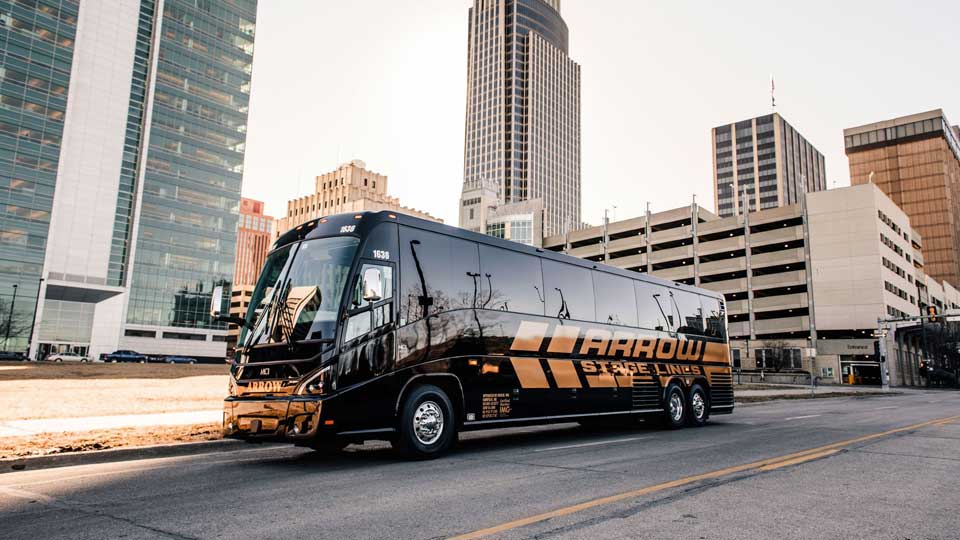 A typical Bus on tour
Prices are subject to change without notice, subject to the guarantees set forth below.
Once we have received your full deposit, that price is guaranteed and you are protected against any base land price increase due to currency surcharge. Any subsequent land or cruise cost increases are at our expense, not including energy cost increases and/or any government tax increases.
Gratuities are included for services during the land stay of your vacation. This includes wait staff at included meals, hospitality staff at hotels for nights purchased through us, and porterage at hotels for one suitcase per person.
Gratuities for your Tour Director, Local Hosts, Local Guides, driver are not included in the vacation price.
Pre-paid gratuity for Tour Director and driver is available for pre-purchase (US$190.00 per passenger). You can pre-pay your gratuities now instead of paying while on vacation. This service will help planning and budgeting and it is one more thing that is taken care of before you vacation starts.
Optional Excursions:
CHICAGO
Chicago River Architecture Cruise from US$47.00
There's no better way to experience Chicago's impressive architectural heritage than from the Chicago River. Sit back and relax during this captivating cruise past the Windy City's iconic skyline and buildings by world-famous architects. Throughout the 1.25- hour journey, an expert guide will regale you with fascinating anecdotes about Chicago, including the dramatic Great Fire of 1871 and the city's emergence as home of the skyscraper and cradle of modern American architecture.
BRANSON
Branson Show & Dinner: from US$75.00
Take a one-of-a-kind musical and comedic journey through the years during this fun evening in Branson. Begin at the Grand Country Buffet with a delicious homestyle cooking that would make Grandma proud. Then enjoy a fantastic live performance of "Decades", a toe-tapping musical tribute to the '50s, '60s, '70s, and '80s!
AMARILLO
Dinner At The Big Texan Steak Ranch from US$34.00
Experience real Texas hospitality, great food, and the truth behind the old saying that "everything is bigger in Texas" on this fun dinner outing to The Big Texan Steak Ranch! Opened in 1960, the towering cowboy sign became a Route 66 landmark, and its enormous 72-ounce steak became legendary. Step into the Old West atmosphere and relax over a hearty steak, chicken, or vegetarian dinner—complete with all the fixin's! If you're truly famished (or just truly competitive), you might take a shot at the 72- ounce steak. If you can eat the entire meal—shrimp cocktail, baked potato, salad, roll, and steak—in one hour, it's on the house!
ALBUQUERQUE
Albuquerque By Trolley from US$35.00
Enjoy a fun and uniquely Albuquerque activity: the city's open-air sightseeing trolley! During this fully narrated experience, discover the many palate-pleasing uses of red and green chili; practice the thundering call of the University of New Mexico Lobo; see film locations from movies and TV shows, including "Breaking Bad"; and even encounter a desert beach and a castle! Featured attractions include the Indian Pueblo Cultural Center, Old Town Plaza, ABQ BioPark, Route 66, University of New Mexico, Nob Hill, Tingley Beach, and more!
GRAND CANYON NATIONAL PARK
North Canyon Helicopter Tour from US$229.00
The North Canyon tour takes guests on a flight over the Kaibab National Forest and into the deepest and widest part of the Grand Canyon. The central region of Grand Canyon, where the geography is at its most diverse, has a width of nearly 11 miles/17.7 km across and nearly a mile deep. The flight employs a loop so that guests seated on either side of the aircraft can take postcard ready pictures without attempting to shoot across the cabin. Enjoy breathtaking views through large windows as you fly over the mighty Colorado River towards the Canyons North Rim. See the Tower of Ra and Vishnu Schist as you fly back through the Dragon Corridor before landing back at the helipad. Flight time is approximately 25 minutes.
Grand Kingdom Tour By EcoStar Helicopter from US$339.00
The Grand Kingdom Air Tour is approximately 40 minutes and features awe-inspiring views of the beautiful Eastern gorge of the Grand Canyon. See the eastern portion of Grand Canyon, the Little Colorado confluence, the North Rim of the Grand Canyon and the Dragon Corridor. These areas, the widest and deepest of the Grand Canyon, offer guests the most comprehensive views and experiences only available from the air!
LAS VEGAS
"Vegas! The Show" The Story Of Vegas Entertainment from US$180.00
Elvis, the Rat Pack, Tom Jones, glamorous showgirls--"Vegas! The Show" takes you on a musical journey back to the good ol' days of the "real" Las Vegas! Your evening begins with a succulent dinner of juicy, hand-carved meats at Pampas Brazilian Grille, then take your seats and watch the evolution of the town that became a performance mecca for entertainers and changed the face of America forever. Later, head downtown to the Freemont Street Experience entertainment district, complete with light shows, live concerts and other entertainment.
Grand Celebration Helicopter Experience from US$479.00
Embark on an unforgettable 70-minute helicopter journey to the floor of the Grand Canyon on this fun, half-day flightseeing adventure! Admire panoramic views of historic Boulder City, Lake Mead, Hoover Dam, Guano and Eagle Points, the famous SkyWalk, and the Grand Canyon itself! You'll descend 4,000 feet (1,219 meters) to an exclusive landing site by the banks of the Colorado River. There, bask in the rugged beauty of the canyon as you enjoy a delightful picnic and refreshments served under an authentic Indian "Ramada". You will have ample time to explore and take photos, then, before taking off, toast your journey with champagne! A day to remember!
Hoover Dam Classic from US$114.00
No trip to Las Vegas is complete without visiting the Hoover Dam. Situated in the scenic Black Canyon between Nevada and Arizona, construction of this National Historic Landmark took the efforts of thousands of men during the Great Depression, and formed Lake Mead, the largest reservoir in the U.S. (based on water capacity). Once completed, the dam harnessed the power of the Colorado River, controlling floods, and providing water and hydroelectric energy to southern California, Nevada, and Arizona. Join your guide for a bird's-eye view of the dam complex, cross into Arizona on the 900-foot-tall Mike O'Callaghan/Pat Tillman Memorial Bridge, and marvel at the spillway, which is so large a WWII battleship could pass through it. Afterward, enjoy free time to explore on your own!
Vegas Nights Helicopter Tour from US$129.00
Admire the bright neon lights of Vegas from above on this fantastic flight through the night sky! Begin with a glass of champagne to toast your flight aboard an ECO-Star helicopter, the "limousine of the sky". Soar over the megaresorts of the Las Vegas Strip, from the New York-New York skyline and Bellagio's fountains to the never-fading light of the Luxor pyramid.
LOS ANGELES
Warner Bros. Studio Tour from US$69.00
Film fans get to see the real sets and soundstages where the greatest names in entertainment made history as they touch, tour and explore the iconic 110-acre film studio that brought "Argo" and "Ocean's Eleven" to the big screen. From "The Big Bang Theory" to "Friends," the Studio Tour takes guests behind the camera for a revealing look at how the magic is made. Studio tours include a 2-hour guided portion, as well as a self guided visit to Stage 48: Script-to-Screen.
Please note: please do not purchase domestic/international airline tickets until tour is confirmed by us!

Route 66 abandoned wrecks
Book your own programs: