Travel Route 66: 15 day guided motorcycle tour!
Some departures are with optional Harley-Davidson Headquarters + museum visit!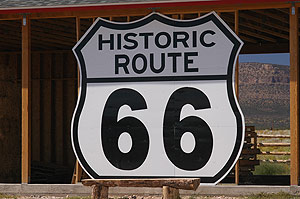 Truxton, Arizona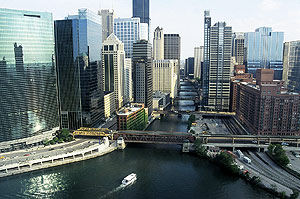 Chicago downtown, IL
Day 1: Arrive to Chicago, IL.
After touching down at Chicago International Airport we ask you to transfer to your hotel. Chicago, it almost goes out with saying, is one hell of a town; the largest, most vibrant of the Great Lake cities. The city skyline has few peers and down on the streets you'll find a fantastic selection of world class museums, restaurants and cafes. There is also the city's famed bar and nightclub scene that is still anchored in an incredible jazz and blues tradition. The fun begins with a Welcome Dinner and drinks with your fellow riders, and ends in one of Chicago's finest hotels. In the morning the long dreamt of journey across Route 66 begins.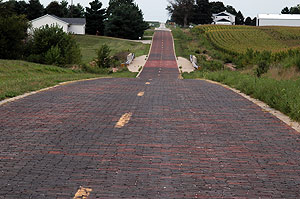 A little piece of brick road from 1931. Auburn, IL
Day 2: Chicago, IL - Springfield, IL
(

Miles:187, Kilometers:301)

First order of business is to pick up your Harley-Davidson before you can start on the ultimate American road trip. Parallel to I-55, (the Interstate 55) the legendary Route 66 began its run right here. It cut through the state before it ran the whole way to the Pacific Coast. Along the way you'll see old-time diners and service stations which are a real slice of Americana. Riding South from Chicago, we will pass the old archetypal truck stop town of McLean, but we don't linger, instead we barrel through the coal-mining area of Illinois and continue along the Pontiac Trail, as this road used to be known. Finally we pull into Springfield, the Illinois state capital. Our hotel is just a stone's throw from the site of Abraham Lincoln's Illinois home.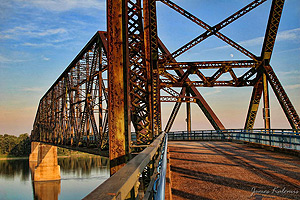 Chain of Rocks Bridge over Mississippi River, St. Louis, MO
Day 3: Springfield, IL - St. Louis, MO
(

Miles:116, Kilometers:187)

Making our way south, we head towards the state of Missouri on our way to St. Louis, a town rich in history. Along the way, we will pass through a number of Highway towns, which are great places for a stop en route. One thing's for sure, you should see the famous Dixie truck stop, "Our Lady of the Highway Statue", Litchfield and the "Ariston Café". We will also set aside some time to visit Meramec Caverns as you head for the Mississippi River – a complex of mineral formations which are as rare as they are exquisite. And of course we couldn't miss the famous "Chain of Rocks Bridge". Now we are properly in Missouri, the state where the Mississippi River meets the Missouri River, and where you can find both forests meet the grassland prairies. It's a short ride from the state border into the "Gateway to the West," St. Louis, a dynamic and cultured city nestled along the shores of the almighty Mississippi River. You will find not only some of the best live music, but also BBQ ribs in the entire United States in St. Louis. You can also study the magnificent St. Louis Arch from the window of tonight's accommodations, the centrally located Hampton Inn.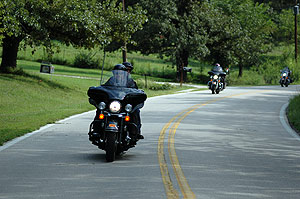 Beautiful country roads in Missouri
Day 4: St. Louis, MO - Joplin, MO
(

Miles:335, Kilometers:539)

It's a nice idea to get up a little early before we hit the road. Take a short walk across the street and marvel at an early morning view of the St. Louis Arch and Mississippi River. Soon after we will have St. Louis in our rear view mirrors as we leave the city for the rolling Missouri hills. You will soon see why this is such a popular stretch for riders, especially after working up an appetite for a lunch stop at a place in the middle of nowhere that serves about the best darn BBQ you will ever eat! Tonight we stay in Joplin, a city still recovering from a massive tornado in 2011. We'll meet some of the locals in the downtown neighborhood and hear some hair-raising stories about how it felt to be in the eye of a deadly tornado!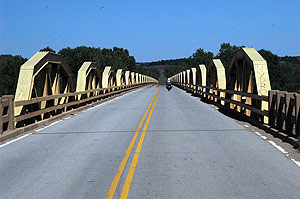 The "Pony" Bridge near Bridgeport, OK
Day 5: Joplin, MO - Oklahoma City, OK
(

Miles:255, Kilometers:411)

Making tracks from Joplin we ride west through Oklahoma, following the contour of a landscape that feels as if it's always been there. We cover 100 miles between Tulsa and Oklahoma City through what was known in the Old West as Indian country. In the 1830s this land, which was considered basically worthless, was set aside as Indian Territory. It became an expedient dumping ground for the so-called Five Civilized Tribes who had previously acted as a check on white settlement in the southern states. The Seminole of Florida, the Choctaw and the Chickasaw of Mississippi, and the Creek of Alabama were each assigned a share, and the rest was assigned to the Cherokee from Georgia, Carolina and Tennessee. The state still has a large Native American Indian population to this day. As you may or may not already know, "Oklahoma" is actually the Choctaw word for "red man". As we head west we travel through El Reno and then ride over the mile-long bridge, near Bridgeport and straight into Oklahoma City. Be sure and enjoy your stay tonight in the heart and soul of Route 66 country! Your hotel is handily located in the Bricktown Neighborhood, which is packed with shops, restaurants and nightlife.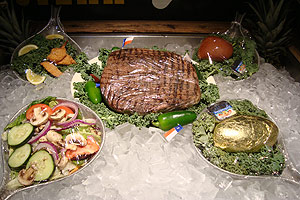 72oz (2kg) steak. Free if you can eat it! Amarillo, TX
Day 6: Oklahoma City, OK - Amarillo, TX
(

Miles:266, Kilometers:428)

We get up nice and early for our trip into the Panhandle, the southernmost portion of the Great Plains. Frequently referred to as "the real Texas", the Panhandle really lives up to the popular stereotype of how Texas is supposed to look. Where the buffalo once roamed and the indigenous peoples once lived was considered perilous and uninhabitable frontier country. However its value went up sharply during the 1870s as a source of natural resources - specifically Helium, especially in Amarillo, and oil. Together with agriculture, this brought enormous wealth to the region. Although Amarillo can seem cut off, even from the rest of Texas, it sits on one of the great American cross-country routes – the I-40 (once a part of legendary Route 66), roughly 300 miles from Albuquerque and 250 miles west of Oklahoma City. Home to a few of the world's largest cattle ranches, Amarillo takes its name from Spanish and means "yellow", the color so distinctive to this territory. Not only that but our good buddies from "The Big Texan Steakhouse" will pick everybody up at the hotel in a fleet of old Cadillacs with giant bull horns across the hood. On tonight's menu are the finest steaks in the whole of Texas!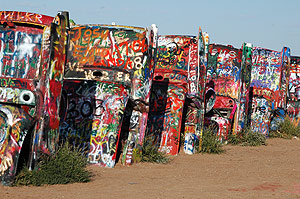 Cadillac Ranch, near Amarillo, TX
Day 7: Amarillo, TX - Santa Fe, NM
(

Miles:303, Kilometers:488)

It's time to bid a fond farewell to the Lone Star State. We're on our way to "The Land of Enchantment", that is New Mexico. After passing through the eccentric and colorful art installation known as Cadillac Ranch, we come to the highly atmospheric ghost town of Glen Rio, where you can stand with one foot in Texas and the other in New Mexico. At this stage of the trip, we have 5 states behind us and 3 still ahead. The ride continues through the land of Comanche Indians and into Tucumcari, the largest town between Albuquerque and Amarillo. Then we head up into the High Plains and the slightly dizzying altitudes of Santa Fe in central New Mexico. Santa Fe is one of the oldest and most picturesque cities in the United States. It will be our base for the following two nights, in a hotel just steps from the historic town square and mission, in the heart of Santa Fe's Old Town.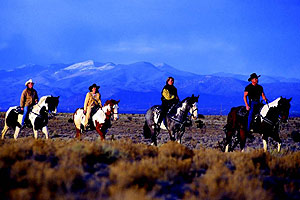 Horseback riding, Santa Fe, NM
Day 8: Santa Fe, NM
You have the day at your leisure to rest and enjoy the distinct character of this nearly 400-year-old city. The mix of cultures in Santa Fe is evident in the Southwestern architectural style. In any case there's no shortage of things to do in and around New Mexico's capital city. Get up early and experience a hot air balloon trip at sunrise, be a cowboy for the day with a horseback ride on a mountain or canyon trail or take a ride along the river valley to Taos, an authentic Native American Indian 'Pueblos' or community.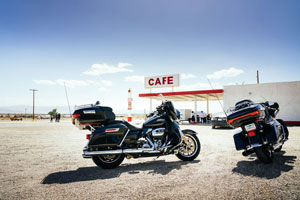 Riding in New Mexico
Day 9: Santa Fe, NM - Gallup, NM
(

Miles:271, Kilometers:436)

Heading south this morning we rode down to Albuquerque, New Mexico's largest city. Home to a third of the state's population, Albuquerque is a sprawling city situated at the crossroads of New Mexico, right at the spot where the main east - west road and rail routes cross both the old road south to Mexico and the fabled Rio Grande. Crossing this legendary waterway, we head west – all the way into the open country. Prepare to be overawed by the shapes and hues of this Navajo wilderness, with its steep cliff sides and table-top mesas. On into Laguna we ride - then through Grants and Cibola National Forest towards the quaint Route 66 town of Gallup. It's an old railroad town - and a former Native American stronghold. Enjoy your stay in Gallup where it's easy to strike up conversation with fellow riders from around the world at one of the town's numerous biker-friendly hotels.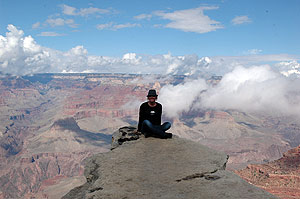 Sitting on the edge. Grand Canyon, AZ
Day 10: Gallup, NM - Grand Canyon, AZ
(

Miles:283, Kilometers:456)

From Gallup it's a 30 minute ride to the Arizona border. We no sooner enter the state, before enjoying an awe-inspiring ride through the Petrified Forest. The multiple layers of colored terrain might remind you of an alien landscape but what you are looking at is actually a fossilized prehistoric forest of gigantic trees unearthed over the centuries by erosion. Just a little bit further west we will pass through Holbrook and Winslow – two old Route 66 towns whose livelihood is sustained by transcontinental truckers. While most tour groups tend to spend the night at Flagstaff or Williams, Arizona, we have something different in mind. We ride on to spend a special night just one mile from the South Rim of the Grand Canyon! Enjoy a cool refreshment – or two – as you gaze in wonder at the sun setting over the Grand Canyon. The dream has become real right before your very eyes.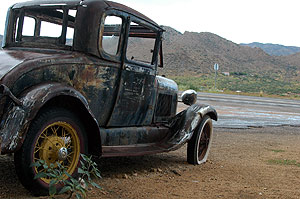 A forgotten beauty at Hackberry, AZ
Day 11: Grand Canyon, AZ - Laughlin, NV
(

Miles:256, Kilometers:412)

If you don't mind an early start, we can arrange a morning helicopter flight over the South Rim of the Grand Canyon. If you want to lie in just a little longer, that's fine too. There will be ample time to ride along the rim, stopping to admire the spectacular vistas, and making the best out of photo opportunities. Then it's finally time to leave the Grand Canyon and pick Route 66 back up in Williams, Arizona. We will also make stops in the famous 66 towns of Kingman, Peach Springs, Seligman, Hackberry and an absolute must-see, the Old West Ghost Town of Oatman, Arizona.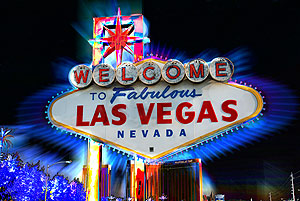 Las Vegas, Nevada
Day 12: Laughlin, NV - Las Vegas, NV
(

Miles:129, Kilometers:208)

Billing itself as the Entertainment Capital of the world but known in some quarters as sin city: brace yourself because today we make a little detour to Las Vegas! Once we get there, you will be treated to the VIP experience at some of the most celebrated hotels on The Strip. As the saying goes what happens in Vegas stays in Vegas, but it is sure to be a lot of fun! Do try and fit in little bit of sleep because in the morning we pick up at Route 66 right where we left off the evening before.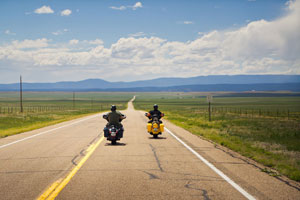 California desert riding
Day 13: Las Vegas, NV - Victorville, CA
(

Miles:282, Kilometers:454)

We are on our way to the sunshine state of California, the final state on our journey across the famed Route 66. We traverse the dunes and salt flats of the so-called Devil's Playground. Indeed the Mojave Desert offers some of the most striking scenery in Southern California - or anywhere for that matter. Think dramatic volcanic formations, rolling grasslands, clusters of Joshua trees, and even in some spots, Pinion pine trees. Leaving the desert for dust, our ride takes us into the cooling forestlands of the San Gabriel Mountains. The final stop today is the former air force base town of Victorville, where we will spend the night.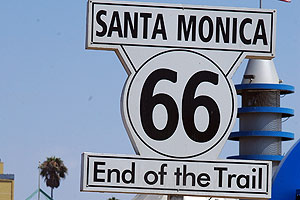 Santa Monica Pier, Los Angeles, CA
Day 14: Victorville, CA - Los Angeles, CA
(

Miles:124, Kilometers:200)

It will be with a mixture of emotions that you set out for the final destination of your legendary American road trip – Los Angeles. We make directly for Santa Monica, for the very good reason that Historic Route 66 actually comes to an end on Santa Monica Boulevard. When you see the "End of the Trail" sign on Santa Monica Pier, you're bound to feel a sense of accomplishment, having finally made a dream come true, but also some sadness that the ride has finally ended. Of all LA's resorts, Santa Monica is the largest and the oldest. Back in the flower-power days it was a hedonistic beachfront playground. It is still a liberal kind of place, but a lot more health-conscious these days. Now you have the afternoon free for sightseeing and can take in Beverly Hills, Rodeo Drive, the famous Chinese Theatre, and so much more besides. Time to celebrate: enjoy the farewell dinner and last night on tour.
Day 15: Los Angeles, CA
This journey of a lifetime comes to its end today in Los Angeles, unless of course you would like an extra night or two in L.A. – in which case let us know. We can even arrange a discounted motorcycle rental!
Tour dates (English)

Jun 22, 2023 - Jul 06, 2023
-
Sold out

Jun 29, 2023 - Jul 13, 2023

Jul 13, 2023 - Jul 27, 2023

Jul 27, 2023 - Aug 10, 2023

Aug 10, 2023 - Aug 24, 2023

Aug 24, 2023 - Sep 07, 2023

Aug 31, 2023 - Sep 14, 2023

Sep 06, 2023 - Sep 20, 2023

Sep 07, 2023 - Sep 21, 2023

Sep 14, 2023 - Sep 28, 2023
-
Sold out

Sep 21, 2023 - Oct 05, 2023

Oct 07, 2023 - Oct 21, 2023
Tour dates (German Exclusive Language)

Aug 10, 2023 - Aug 24, 2023

Aug 31, 2023 - Sep 14, 2023

Sep 21, 2023 - Oct 05, 2023
Tour dates (Italian Exclusive Language)

Jun 29, 2023 - Jul 13, 2023

Jul 27, 2023 - Aug 10, 2023
Tour dates (Spanish Exclusive Language)

Jun 29, 2023 - Jul 13, 2023

Jul 27, 2023 - Aug 10, 2023
Tour dates (French Exclusive Language)

Jun 22, 2023 - Jul 06, 2023
-
Sold out

Aug 24, 2023 - Sep 07, 2023

Sep 06, 2023 - Sep 20, 2023

Sep 14, 2023 - Sep 28, 2023
-
Sold out
Rates for Standard Guided Tours:
Various discounts may apply (season, group booking, early-bird, last-minute etc - please always contact us for your special rate)
1 rider 1 motorcycle 1 room from: US$7,200.00 (£5,760.00, AU$11,088.00, NZ$11,952.00, 6.696,00 €)
2 people 1 motorcycle 1 room, per person from: US$4,290.00 (£3,432.00, AU$6,607.00, NZ$7,121.00, 3.990,00 €)
2 people 2 motorcycles 1 room, per person from: US$5,800.00 (£4,640.00, AU$8,932.00, NZ$9,628.00, 5.394,00 €)
3 people 3 motorcycles 1 room, per person from: US$4,849.00 (£3,879.00, AU$7,467.00, NZ$8,049.00, 4.510,00 €)
3 people 2 motorcycles 1 room, per person from: US$3,965.00 (£3,172.00, AU$6,106.00, NZ$6,582.00, 3.687,00 €)
It is possible to join a guided tour with your own motorcycle. The deduction is $100 per bike/per riding day (on this tour it would be a discount of $1,300 USD per bike) on the base tour rate. Furthermore, if you should break down the tour guides would not be allowed to work on your bike, nor would you be able to ride the spare bike of the trailer, due to insurance issues.
It is possible to finish this tour in Las Vegas. You would only need to advise the guide. There will be no refund on the unused tour portion.
It is possible to join a guided tour with your rental car. The tour fee is from US$4,555.00 per person (2 people, 1 room, 1 convertible car). Furthermore, you need to pay the one-way fee at the rental location in Chicago (from US$750.00 + tax). If you should break down on the road our tour guides would not be allowed to work on your car- you need to call roadside assistance. You pay your own gas and insurance, National Park entrance fees and Hotel parking fees. Not allowed to merge with the Motorcycles. You will be part of all activities, the Free Grand Canyon helicopter flight, receive the Free Riding jackets, as well as participate in our hosted Welcome- and Farewell Celebrations. We take care of your vehicle rental.
Trike Supplement along with the additional one way is from: US$1,850 We only have a few in our national fleet so let us know to book soon so we can get it locked up.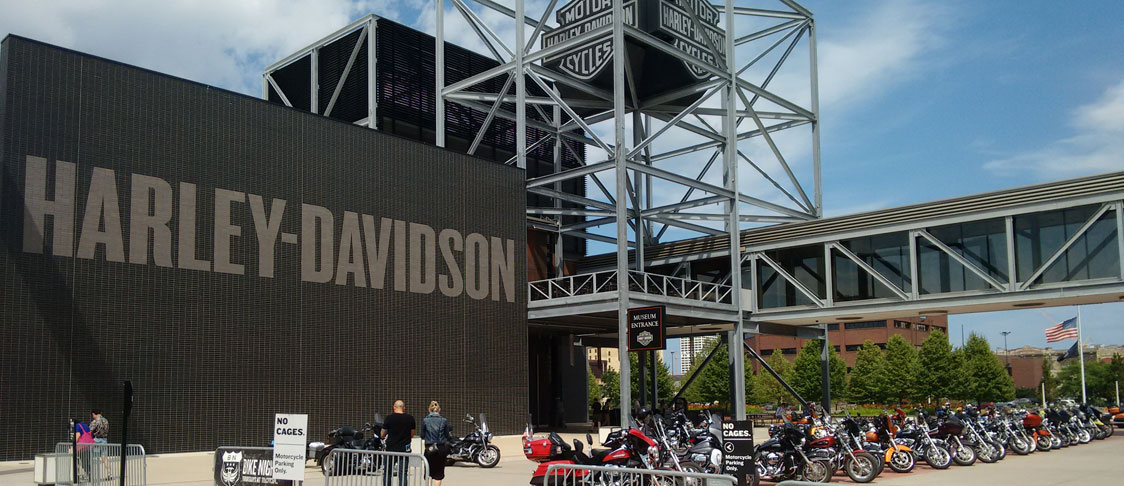 What could possibly be better than riding Route 66 on a Harley-Davidson? Well, how about kicking off your Route 66 guided tour with two nights in Milwaukee to visit the Harley-Davidson Headquarters, and to enjoy a private, VIP experience at the Harley-Davidson Museum! This unique experience will be available to less than 50 riders per year. You will spend two nights in our Hotel right next to the Museum, you'll visit the tiny shed where Mr. Harley and the Davidsons built their first motorcycles; all capped off by a one-of-a-kind Museum Experience. And if that's not enough, you still have an incredible journey down The Main Street of America, Route 66, to look forward to. Route 66 in and of itself is the journey of a lifetime for most riders. Now, toss in a couple of days immersing yourself in the history, as well as the future, of Harley-Davidson, and you have the recipe for an unforgettable experience that will make you the envy of every rider on the planet.
Harley-Davidson Headquarters and Museum VIP Experience: add two days and two nights to your Route 66 tour!
We will grab a great breakfast at our hotel before making the short van trip to the H-D headquarters where we will be greeted by some of the Executives and Leaders of The Motor Company. We will then have the opportunity to shop in the H-D Corporate Store, an experience that is typically reserved for employees and partners. This is the only place in the world where you can purchase a Harley-Davidson t-shirt with "Juneau, Wisconsin," the street the HQ sits on, as the location. It's a pretty safe bet you will be the only person in your riding club, or even in your home city, that has the coveted "Juneau" t-shirt. Next we will make our way over to the H-D Museum for a truly VIP, behind the scenes experience. There is a lot to see in the Museum, so feel free to spend as much time as you like. It's only a ten minute walk back to our accommodation.
What's included in guided tours?
Guaranteed first motorcycle model choice
All hotel accommodations - with highest costumer ratings selected
Grand Canyon Helicopter Tour (not refundable)
Late model motorcycle rental
Unlimited mileage
Professional Tour Leaders (Multilingual)
Support Vehicle equipped with spare bike and room for additional luggage
Support Vehicle driver
Welcome & Farewell Celebration with dinner
Helmets for driver and passenger (half-face)
Custom Armored Riding Jacket (you will keep it!)
On-Road Concierge Service
Custom Tour Completion Patch
Breakfast on riding days
Door to door luggage service
Fuel & oil on riding days
Transportation between hotel and rental location
Mobile Tour Guide App
Toll Fees
One Way Transfer fees (motorcycle only)
National Park entrance fees
Hotel Parking fees
All taxes, fees, and environmental surcharges
What's not included in guided tours?
Airfares
Motorcycle security deposit (amount based on selected insurance)
Transfer airport-hotel-airport
Food and snacks (except for welcome & farewell meals)
Beverages
Tips
Personal souvenirs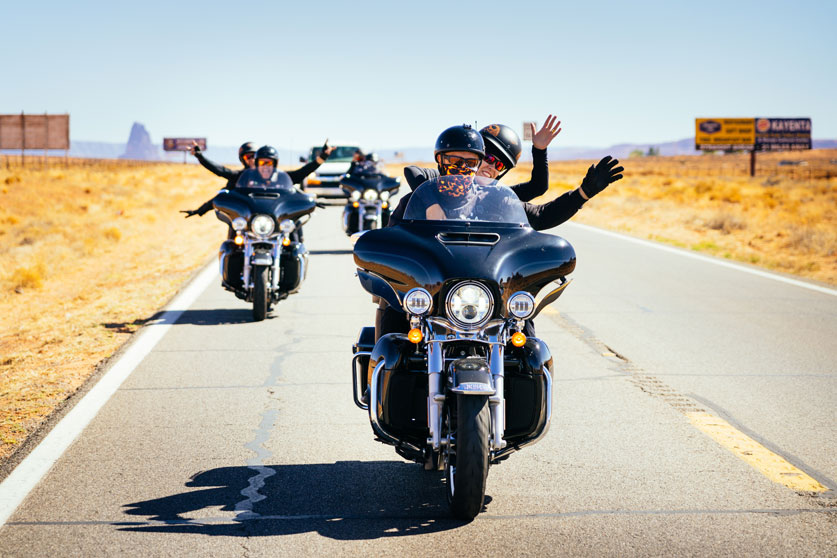 Cancellation terms: Guided tours
A reservation may be cancelled up to 45 or more days prior to the pick-up date with no charge. You will receive everything back in the form of store credit
Cancelling between 44-31 out from your tour start date will have a 50% cancellation fee and the remainder will be put into store credit.
Cancelling inside of 30 days would forfeit everything as a cancellation fee. Cancellations can be addressed on a case by case basis as well.
Refunds, if applicable, will be issued in a form of store credit that can be redeemed within 1 year from the date it was issued.
Trip cancellation insurance is strongly recommended.
Refunds: No refund policy. In the event of overpayment or customer claim request, all amounts will be issued in the form of a Store Credit.
MINIMUM TOUR PARTICIPANTS
Our company reserves the right to cancel a tour up to 30 days prior to the departure date if an insufficient number of participants have booked and fully paid by that time.
TOUR CANCELLATION BY US
In the case of a tour cancellation, the tour participants will be notified by us and will either be offered the tour as a Self- Drive Tour package (bike rental & hotel package) or will be offered the Guided Tour with an additional fee making up for the insufficient number of tour participants.
If all tour participants do not agree to pay the additional charge, we will refund the payment in full, which will constitute the full settlement and we will be absolved of all liability associated with that booking.
Our company is not liable for any additional costs or losses incurred by the tour participant due to a tour cancellation. This includes, but is not limited to, the cost of pre-paid airline tickets, hotel reservations or automobile rentals. Situations may arise which make it necessary for us to cancel, advance or postpone a scheduled tour, change itineraries or make substitutions regarding hotels, cities, tour guides and other travel arrangements. In that event, our company does not assume responsibility or liability for any resulting losses, expenses or inconvenience.
Because of the chance of illness, accident, airline inefficiency, company insolvency or other unforeseen situations that may cause a customer (you) to miss a tour, we suggests to purchase travel/medical/health/trip cancellation insurance. It is a little expense that gives you piece of mind, highly recommended!
Insurance:
Various motorcycle insurances are available that you can book with your rental, for more information please have a look at our Insurance webpage.
What is the difference between the "Small Group" and "Standard" Route 66 tours?
Small Group tour offers visiting Harley-Davidson Factory and Museum in Milwaukee (optional program)
Small Group tour takes it easy: we ride 2 more days on road!
Small Group tour has limited motorcycles on tours, no more than 12
Small Group tour rides more 2 lane old roads, in fact everywhere it is possible
Small Group tour visits a lot more stops and attractions (small groups are always easier to handle)
Small Group tour participants spend more time at each sight or attraction
Small Group tour rides in September with the most pleasant weather possible in season (there was no rain in 2015, little rain in 2016, some thunderstorm in 2017, little rain in 2018/2019)
Small Group tour has easier day-to-day distances
Small Group tour arrives to Los Angeles on Sunday to avoid horrible traffic
Standard Tour: Tour days: 15, Nights: 14, Riding days: 13
Small Group Tour: Tour days: 17, Nights: 16, Riding days: 15
Standard Tour: all rooms are in hotels
Small Group Tour: 14 nights in hotels, 2 nights in historic motels (Wigwam Motel Holbrook AZ and Railhaven in Springfield MO - once Elvis stayed here, too!)
Standard Tour - meals: 2 meals (welcome and farewell dinner - soft drinks) are included + breakfast at all hotels
Small Group Tour - meals: 2 meals (welcome and farewell dinner - soft drinks) are included + breakfast at most locations (we have to walk across the road to a Cafe at the Wigwam, no breakfast there)
To book this tour we need following information from you:
Date of arrival (rental/riding starts next morning)
Rider(s): name, jacket size, home address, nationality, required insurance option(s): VIP Zero, VIP, SLI, selection of motorcycle model choice, room type: one or two beds in room? Any additional hotel rooms before or after the tour?
Pillion(s): name, jacket size, nationality
Booking deposit: 20% per motorcycle
Final payment: 6 weeks before tour commences
Payment method: bank transfer to our bank account. We also accept US personal checks (scanned to e-mail or mailed to our office).
PayPal and MoneyGram payments are not accepted
Please note: please do not purchase domestic/international airline tickets until tour is confirmed by us!