Sorry, this tour is currently not bookable
Route 66 Ultimate Tour: 18 days with Milwaukee, Las Vegas and Universal Studios
Optional departure to Harley-Davidson Headquarters + museum visit from $70 pp

Day 1: Arrival Chicago
When all tour participants have arrived, we meet for a refreshment and introduce everyone to the tour leaders and entire group. This evening's program is about getting to know each other and what better way to do that, than by eating dinner together in true American style? Anyone not too tired after their journey may join us for a drink at a local bar, but be sure and save some energy for the open road.
Day 2: Chicago "The windy City"
Welcome to Chicago, the so-called "Windy City"! The third largest city in the US, Chicago certainly has a rich history. Just think of Al Capone and "The Untouchables" (a movie well worth seeing if you haven't already). Around three million people live in the inner city - and millions more in Chicago's suburban districts. Known as the windy city because of its harsh climate, with warm summers but bitterly cold and blustery winters, Chicago is also the home of basketball's "Chicago Bulls", where the celebrated Michael Jordan was the front man. The city's baseball team is the "Chicago Cubs". This is a vibrant, highly musical city with a lively cultural scene and no end of terrific bars and clubs.
We start the day with an informative meeting, where we brief you more fully about your upcoming tour on Historic Route 66, and your stay in Chicago. We also cover practical information and preparations regarding matters such as motorcycle and car rental checkout.
Afterwards, we start our city tour by visiting Willis Tower, the world's ninth largest building. It is 442 feet high, with 2,232 steps, 110 floors, and a super-fast elevator (70 seconds). For a long time, the "Tower" was actually the world's tallest building, but was eventually surpassed by the Burj Khalifa in Dubai. The building is still pretty astonishing, and from the top "Sky Deck" you can look down over four US states.
Next destination is down at street level – as we head to Jackson & Adams Street to take a group photo. This is the very beginning of Route 66 – or its end, depending on which way you travel. For the rest of the day and into the evening, we will continue to explore Chicago. There's no doubt the windy city has much to offer, including "The Magnificent Mile" (a shopping district on Michigan Avenue, also known as Chicago's "Strip"), the Water Tower, Navy Pier and Millennium Park (where we may even catch an outdoor concert). We'll be doing a bit of walking, so remember to bring sturdy footwear.
In the evening we will head for "Blues Alley" and one of Chicago's most famous blues club, Kingston Mines. Since 1968 well-known and lesser-known blues artists have played continuously on not one, but two stages. While not compulsory, this is an experience we do recommend. Group transport takes us back to the hotel around midnight.
Day 3: Harley-Davidson Museum
After breakfast, a minibus takes us to Milwaukee, where we get a guided tour of the Harley-Davidson Museum. More than a century of Harley-Davidson is contained here, ranging from the very first to the very latest Harleys. This is Hog Heaven for Harley aficionados.
We eat a biker lunch at the museum, before we driving to a local Harley-Davidson dealer (e.g. Woodstock Harley-Davidson) so anyone who requires or wants supplementary equipment can stock up before the long ride that is to come.
We end the day by driving to our rental location, where we pick-up our motorcycles. The bike you have booked has been prepared for you, and all necessary insurance is of course included. But just as a precaution:. remember to check the bike thoroughly for scratches or damage of any kind, and make sure there is oil and fuel in the tanks. After all, for the next two weeks, this is your ride.
Day 4: Chicago – Springfield (Driving day 1: 325 km)
This is the day we start our Route 66 adventure for real! Once everyone is ready on their bikes, our ride along the 4,000 km long Historic Route 66 begins. Chicago fades into the background, as we head west for a unique adventure full of spectacle, history and fun. Our first stop is Joliet, which you may already know was the home of the Blues Brothers. Then it's onto Wilmington and lunch at the Launching Pad drive-in restaurant. Outside "The Gemini Giant", one of the most famous "muffler men" stands guard.
Afterwards we drive Route 66 past the old gas station at Odell (a classic bit of Americana), to the Route 66 Hall of Fame museum in Pontiac, before arriving in Springfield, today's final stop.
Day 5: Springfield – St. Roberts (Driving day 2: 366 km)
We are now well on the way, and our American odyssey is in full swing, Today's leg of the journey will showcase Route 66 as you have probably pictured it all along. Our first stop is Soulsby Service Station in Mt. Olive, an old school Route 66 gas station. No longer in use, it may make you wistful for a bygone era. We continue to Hamel, where we take a break on at traditional Route 66 diner and enjoy the sunshine.
The journey continues through a stretch of small town Americana before arriving at St. Louis, where we stop at one of the most famous landmarks in the USA. This is "The Gateway Arch", a monument built to honor the pioneers who ventured west. The Arch can be seen from miles away. St. Louis was for a long time considered to be the very frontier of civilization, at least as far as the white settlers were concerned. After stopping to capture the moment – have your cameras ready - we ride by the "Arch" and continue south-west. We will ride past the Ozark mountains, among the grandest scenery anywhere along Route 66.
As the day ends, we stop at Stanton and the Jesse James Museum at Meramec Caverns. There's a wax museum, but the caves are the real attraction. Around 70 years after James supposedly died, artifacts relating to Jesse & his gang were discovered in these caves. Apparently, this is where they hid the loot they had stolen on their many raids. This is the stuff that dreams are made of, so get a good night's sleep. The adventure continues tomorrow.
Day 6: St. Roberts – Claremore (Driving day 3: 381 km)
Today we follow Route 66 as it takes us through three states; Missouri, Kansas and Oklahoma. This is arguably the "heart" of the United States, and it seldom fails to make an impression on anyone who comes this way. This is the original and authentic Route 66 - make no mistake.
You might have heard of Paris, Texas – but how about Cuba, Missouri? This is our first stop today, and a real slice of the old timey Route 66, typified by the Wagon Wheel Motel, open since 1934. Next stop is Lebanon, home to the equally iconic Munger Moss Motel. We proceed to Springfield, home of President "Honest Abe" Lincoln. Then it's on to a well-known Route 66 landmark, Gary's Gay Parita. This replica of a 1930 Sinclair Gas station is run from donations and sales of Route 66 memorabilia. (The station is the legacy of Gary Turner, also known as the kindest man on Route 66). We continue and drive by Joplin, and now it's "Welcome to Kansas" time.
But we won't be in Kansas for long. The drive through the sunflower state on Route 66 is very short, only about 31 km. We stop at the famous Kan-O-Tex Gas Station, formerly known as the "4 Women on the Route" station, then the Marsh Rainbow Arch Bridge, a 1923 built bridge that is the only surviving overpass of its kind. We pass through the picture postcard quaint town of Baxter Springs before crossing into Oklahoma. This is the state with the largest section of the original, preserved Route 66 (in total, about 633 km). Oklahomans also use Route 66 more than in any other state, at least in part because a lot of the new Interstate 44 is levied by tolls. It was actually in Oklahoma people began to use the term "The Mother Road" to describe Route 66. In this state you can observe the landscape changing from forest to desert as you ride. Our final stop for the day is the town of Claremore, nestled in the foothills of the Ozark mountain range.
Day 7: Claremore – Weatherford (Driving day 4: 324 km)
If you weren't aware of just how much natural beauty there is to see in Oklahoma, you will be after today's itinerary. The first stop on Route 66 will be Tulsa, where we call in at the Route 66 Harley-Davidson dealership. Then it's onto the Rock Café in Stroud. This café is so called not because of the music on the juke box, but because it was originally built using local sandstone.
The journey continues through many charming little Route 66 towns. We will stop at several for those all important photo opportunities. Then we drive straight to Oklahoma City, where we will have lunch. Oklahoma City may only be the 31st largest city in the U.S. according to population, but it's the 8th largest, according to land area. However we don't linger long in Oklahoma City, but continue on our Route 66 adventure to Yukon. This goldrush era town is home of the famous country music artist Garth Brooks – there's even a Garth Brooks Boulevard. We continue to El Reno, before embarking on the final leg to Weatherford, where we overnight.
Day 8: Weatherford – Amarillo (Driving day 5: 307 km)
We are headed for real cowboy country now, and of course the nation's largest state, Texas. We will ride through scenic prairie country today, where there will definitely be some straight line driving. But this will also be memorable as "the day of the steak".
Our first stop is Elk City, where we visit the National Route 66 Museum and take souvenir pictures in front of the large Route-66 sign. We say "Happy Trails" to Oklahoma and "Howdy" to Texas. On the way to Amarillo, we stop in McLean at a traditional Route 66 steak house to eat lunch. Brace yourself for one of the tenderest steaks you have ever tasted. The owner personally buys all beef to ensure the best quality.
Afterwards, we head straight to Amarillo, where we take several fun stops. One of them is Cavender's Boot City, where you can load up on cowboy accessories, including but not limited to boots. After checking into our hotel for the evening, a limo picks us up and takes us to a veritable Route 66 legend: the "Big Texan Steakhouse" where you can eat the famous 2.2 kg (72 oz.) steak. Those who manage to eat the entire meal within 60 minutes (2.2 kg/72 oz. steak, plus baked potato, salad, shrimp cocktail, butter and bread) get their meal for free. Many have tried - most have failed. The record is 8 minutes and 52 seconds. Are you up for the challenge?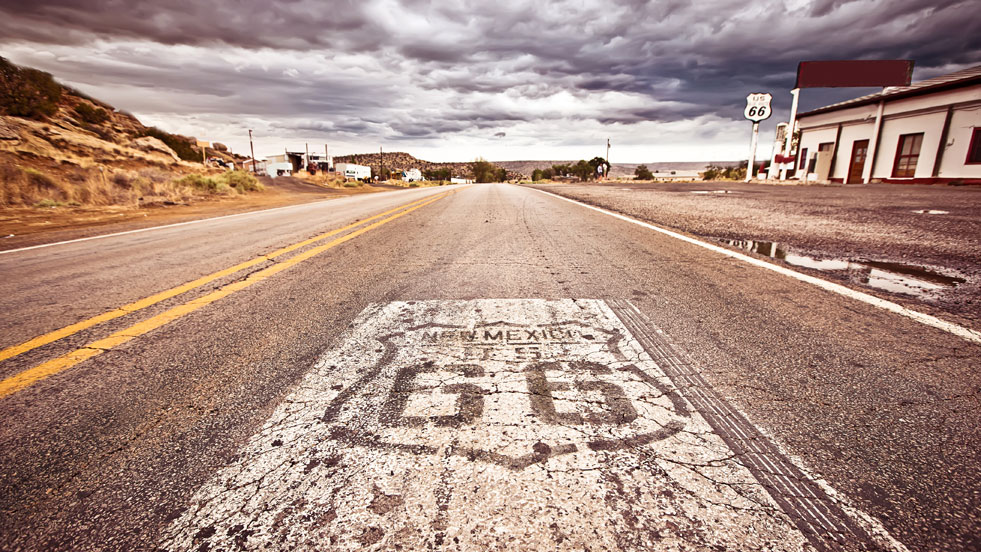 Day 9: Amarillo – Santa Fe (Driving day 6: 448 km)
Prepare yourself for what will be a long, hot day riding through cowboy country, with prairie land stretching off into the distance. At least some of the time, we will be riding on I-40, since parts of the old Route 66 are no longer is drivable in this area. Our first stop is the famous "Cadillac Ranch", where you can add your signature to a truly unique work of art. Then we ride onto Adrian, which is "Midpoint U.S. Route 66". Yes, we are halfway to Los Angeles now. We will drink a cup of coffee at the local Midpoint Café, a classic American diner, before we ride out of Texas and into New Mexico. We continue to Tucumcari where we visit the "Blue Swallow" (which prides itself on being the friendliest motel on Route 66). We eat lunch in Tucumcari, before driving to Santa Rosa.
The final stop is the capitol of New Mexico, Santa Fe. Undoubtedly one of the most beautiful cities in the western United States, Santa Fe will be our home for the next two nights. We predict it won't take much longer than half in Santa Fe's narrow streets, with its friendly population, until you too fall for its charms.
Day 10: Santa Fe
As we have now covered over half the distance of our Route 66 adventure, it's a good time to take a day off the road, recharge the batteries and enjoy more of wonderful Santa Fe. The city is located high in the mountains; scenic "Sangre de Cristo", and is rich in Spanish and Native American history and culture. This unique blend can be seen clearly in the local art and architecture. The whole day is free to spend as you desire.
You can relax by the pool, enjoy one of the many art galleries, explore Santa Fe on your own or with a guided city tour, or visit one of the town's micro-breweries. You can even buy arts and craft in the local market, but whatever you do, don't forget to try "The Green Chili Stew" which has become a favorite among our guests. Santa Fe's cuisine deserves its stellar reputation. In the evening we go to a real cowboy restaurant to eat steak, drink beer and whiskey – and enjoy the real cowboy way of life.
Day 11: Santa Fe - Gallup (Driving day 7: 363 km)
We leave cowboy country behind this morning as ride into Native American territory. It will be an eventful day as we ride through lands that for centuries American Indians have called home. We start by riding the narrow and winding roads to Madrid, where scenes from the "Wild Hogs" movie with John Travolta were filmed. You can walk into the very same bar where the guys sat in the movie, and relax with a drink. Then we head for the Route 66 Casino just outside Albuquerque, to eat lunch.
Then it's straight to Acoma Sky City, a several hundred years old Native American pueblo, built on top of a high "Mesa" (rock formation). We park outside the Acoma Museum, buy tickets, and take the bus up to the holy city (it is forbidden to walk up on your own). When we arrive at the top, we must stick together and close to our guide. This is the place to purchase traditional, handmade Native American art. We finish the day by driving to Gallup.
Day 12: Gallup - Williams (Driving day 8: 390 km)
We will be driving through an unforgettable landscape today, traversing Navajo and Apache territory to the Petrified Forest and the Painted Desert. The Petrified Forest is comprised of colorful, petrified wood. But what about the desert? Has the sand really been painted? After driving through this remarkable nature reserve, we continue to Holbrook and Winslow, where we make a stop at the "corner". Eagles fans know what "Standing on a corner in Winslow, Arizona" means. We will also sit down and enjoy lunch in Winslow.
After our glucose recovery we continue along Route 66 to Williams, which is a raw Route 66 town with many souvenir shops that are worth a visit. We will stay here two nights.
Day 13: The Grand Canyon (Driving day 9: 190 km)
This is the highlight of the tour for many of our customers. First, we drive to the Grand Canyon helicopter base. Those who have ordered the helicopter tour will truly experience something they will never forget. To hover in the air, over one of the seven wonders of the world and see this natural phenomenon up close is something beyond compare. We highly recommend it. After the helicopter ride, we drive a short distance to the visitor center, where you have the chance to watch the world's most viewed Imax movie. Watching the film it feels almost like you are standing right inside the Grand Canyon. But we will experience it for real, when we ride into the Grand Canyon. Now you can take what will surely be this year's vacation photo! NB: Helicopter rides must be booked in advance.
When we can finally tear ourselves away from the Grand Canyon we will drive back to Williams.
Day 14: Williams - Las Vegas (Driving day 10: 466 km)
We drive to the little town of Seligman, which has one best claims to be the place of Route 66's origin. With its Wild West storefronts and Route 66 paraphernalia everywhere, it's a photo opportunity of a different kind.
This rest of the day will consist of riding through the desert, which means high temperatures but epic scenery. We'll make a stop at Hackberry, a traditional Route 66 gas station, that is like something out of an old movie. There will be enough time to enjoy an ice cream or cola in the shade. Next, we cruise to Kingman and Oatman, two old western villages in Mohave (county), that were established by gold prospectors back in the day. The ride from Kingman and Oatman consists of narrow winding roads at different elevations, with a backdrop of mountain and desert landscape. This is one of the best rides for filming on the whole tour. In Oatman, remember to lock your bikes, and watch out for donkeys and outlaws in the streets. Well, donkeys anyway.
Back on Route 66, we are now on our way to Las Vegas. Some riders will probably be a bit tired after all the desert driving, but we will meet for dinner before retiring for the night. We will spend two nights in Vegas, so you can afford to pace yourself. But you may not be able to resist the city's casinos and nightlife, its glitz and glamour. Welcome to the city often called the "Adult Disneyland" or simply, "Sin city".
Day 15: Las Vegas
You are now in one of the most fun cities in the world. This place has everything, from outlandish buildings, to unique shows, non-stop casino action and some of the best entertainment available anywhere. Whatever else you might say about it, Vegas is never boring!
The day is free for your own exploration and your hotel is within walking distance to most of the city sights. We highly recommend visiting Caesars Palace, Bellagio, MGM, Stardust, Treasure Island, The Venetian, Mirage, and the Wyatt. In the evening you can watch volcanic eruptions every 15 minutes at the Mirage, where the whole garden is transformed into a flame show. Inside the casino you will find rare white tigers. The water show outside the Bellagio is also fabulous. Remember to wear sunscreen and dependable shoes, you're probably going to walk a fair bit under the blazing sun.
Day 16: Las Vegas - Los Angeles (Driving day 11: 452 km)
Our trip from Vegas to LA entails a day of riding on city, highway and desert roadways, and it will get very hot. We recommend riding with a hydration (cooling) vest, which makes it much easier to cope with the heat. We eat breakfast and go for a ride on "the strip" before taking a group photo in front of the famous "Welcome to Las Vegas" sign.
Then we head to Los Angeles, with stops at Calico Ghost Town, and to eat our lunch in Barstow. After lunch we drive straight to LA, where we return the motorcycles.
Day 17: Universal Studios & Hollywood (optional program, please add $149 per person per ticket)
We meet in front of the hotel to be driven to Universal Studios. Once here, it's up to everyone to enjoy this dream factory, just as they please. It's easy to get oriented and find your way around. We do recommend starting with the studio tour, which gives you a quick intro to Universal's history and how countless famous movies were made here. (Later in the day waiting lines/times for the studio tour can be quite long). Other recommended attractions are Transformers, King Kong 3D, Terminator, Jurassic Park, Water world and The Simpsons.
Note: access to all attractions is included in the ticket. To avoid having to wait in long queues we recommend buying a "Fast Pass".
In the afternoon we gather for a group picture outside the Universal Studios entrance and to eat dinner together at the Hard Rock Café. Afterwards we take the subway to Hollywood Boulevard and the "Walk of Fame". The sidewalks here have over 2.500 bronze stars of movie stars and celebrities. You will experience the buzz of Hollywood boulevard at night and see the famous Hollywood sign. Also, we will visit Mann's Chinese theatre, the historic theater where many classic films had their opening night, adorned with personal greetings from the many movie stars in its entrance area.
Day 18: Venice Beach /Santa Monica Pier & Home travel
Following breakfast, we check out of the hotel to explore Santa Monica and Venice Beach. We will drive to the fun and world famous Venice Beach; which you've probably seen in many TV-series/movies (Bay Watch, Pacific Blue, Speed, Beverly Hills Cop, Rocky III, etc.). Venice Beach is a rare & colorful experience. It is a parade ground for street performers, busking musicians, hippies, bodybuilders in the outdoor gym, rollerbladers, skateboarders and so on. In addition, there are numerous street vendors and boutiques selling the strangest things. Venice is anything but boring!
From Venice Beach we walk to Santa Monica Pier, the original start/end of Route 66, where we take our last group picture, and officially end our Route 66 tour. There is just time now for a group lunch before saying goodbye to Route 66 and Los Angeles. From there you will travel by bus to the airport for the flight back home.
Together we will have shared a great ride with good times and we sincerely thank you for choosing to travel with us. (Because of the time difference your arrival home will likely be the day after we departed the US) We will be happy to see you again as a participant in one of our other tours: whether in the US, South America, Asia, Oceania or Europe.
Note: This program is a guideline for activities and experiences on the tour. Alterations may occur, but we guarantee that our helpful and upbeat tour leaders will do their utmost to follow the program as described - as far as it is feasible and circumstances allow. We are always working to improve the program, so changes may well take the form of pleasant surprises.
Note: This program is a guideline for activities and experiences on the tour. Deviations may occur, but we guarantee that our positive tour leaders will do their utmost to execute the program as described - as far as it is feasible and circumstances allow. We are continually working to improve the program, thus you may experience positive surprises.
Tour rates (per person)
1 rider 1 motorcycle 1 room: NEW TOUR, PROMOTIONAL RATE: US$8,750.00 ==> US$6,744.00
2 people 1 motorcycle 1 room: NEW TOUR, PROMOTIONAL RATE: US$5,143.00 ==> US$4,894.00
2 people 2 motorcycles 1 room: NEW TOUR, PROMOTIONAL RATE: US$7,136.00 ==> US$5,844.00
Tour dates

May 04, 2021 - May 21, 2021

Jun 04, 2021 - Jun 21, 2021 *

Jul 06, 2021 - Jul 23, 2021

Aug 10, 2021 - Aug 27, 2021

Sep 07, 2021 - Sep 24, 2021

Oct 12, 2021 - Oct 29, 2021
* The first Route 66 tour in June each year is one day longer because it includes the Chicago Blues Festival (the world's largest).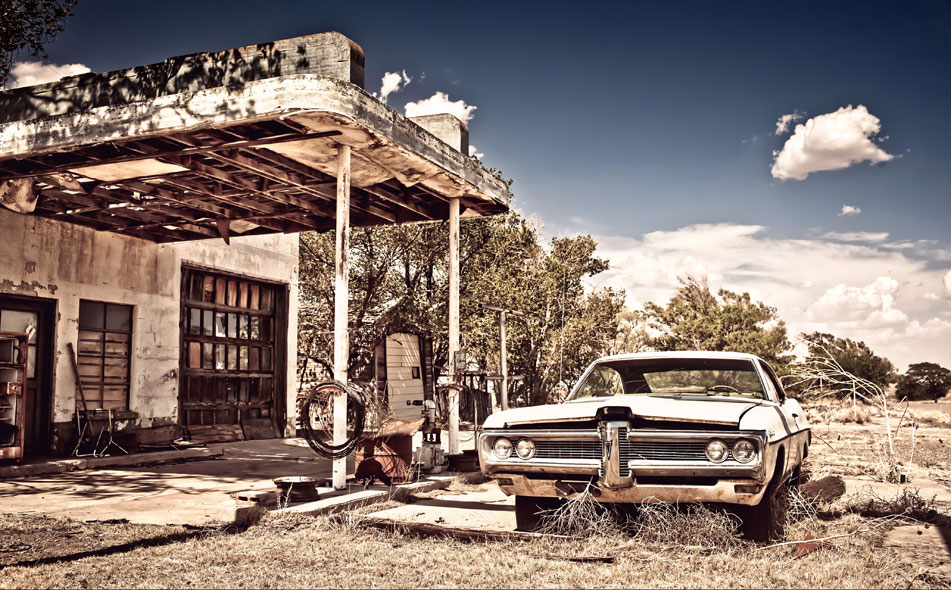 What's included?
Guaranteed first motorcycle model choice
All hotel accommodations - with highest costumer ratings selected
Late model motorcycle rental
Unlimited mileage
Professional Tour Leader
Support Vehicle for luggage
Support Vehicle driver
Welcome & Farewell drinks
Helmets for driver and passenger (half-face)
On-Road Concierge Service
Breakfast at most hotels
Door to door luggage service
Fuel & oil on riding days
Transportation between hotel and rental location
One Way Transfer fees
National Park entrance fees
Hotel Parking fees
All taxes, fees, and environmental surcharges
Insurance: Basic Motorcycle Insurance (Loss Damage Waiver - LDW, worth $25 per day) more information
Attraction Package Route 66: Harley-Davidson Museum - Jesse James caverns - Route 66 Museum (Clinton) - Acoma Sky City - Entrance to the Petrified Forest and Painted Desert - Entrance to the Grand Canyon - Car Museum (Santa Rosa) - Calico Ghost town
What's not included?
Grand Canyon Helicopter Tour (please add $249 per person)
Universal Studios (please add $149 per person)
Full Motorcycle Insurance, (Zero Loss Damage Waiver - please add $10 per riding day), more information
Motorcycle security deposit (amount based on selected insurance)
Transfer airport-hotel-airport
Food and snacks (except for welcome & farewell meals)
Beverages
Tips
Personal souvenirs