Travel Route 66:
15 day self-guided motorcycle tour!
Optional departure to Harley-Davidson Headquarters + museum visit $85 pp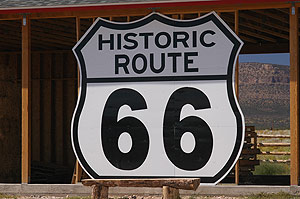 Truxton, Arizona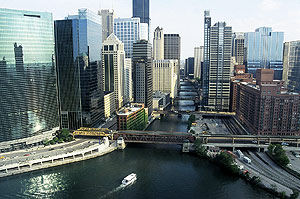 Chicago downtown, IL
Day 1: Arrive to Chicago, IL
Welcome to Chicago, the so-called "Windy City"! The third largest city in the US, Chicago certainly has a rich history. Just think of Al Capone and "The Untouchables" (a movie well worth seeing if you haven't already). Around three million people live in the inner city - and millions more in Chicago's suburban districts. Known as the windy city because of its harsh climate, with warm summers but bitterly cold and blustery winters, Chicago is also the home of basketball's "Chicago Bulls", where the celebrated Michael Jordan was the front man. The city's baseball team is the "Chicago Cubs". This is a vibrant, highly musical city with a lively cultural scene and no end of terrific bars and clubs.
You can start your city tour by visiting Willis Tower, the world's ninth largest building. It is 442 feet high, with 2,232 steps, 110 floors, and a super-fast elevator (70 seconds). For a long time, the "Tower" was actually the world's tallest building, but was eventually surpassed by the Burj Khalifa in Dubai. The building is still pretty astonishing, and from the top "Sky Deck" you can look down over four US states.
Next destination is down at street level – as you head to Jackson & Adams Street to take a group photo. This is the very beginning of Route 66 – or its end, depending on which way you travel. For the rest of the day and into the evening, you will continue to explore Chicago. There's no doubt the windy city has much to offer, including "The Magnificent Mile" (a shopping district on Michigan Avenue, also known as Chicago's "Strip"), the Water Tower, Navy Pier and Millennium Park (where you may even catch an outdoor concert). You'll be doing a bit of walking, so remember to bring sturdy footwear.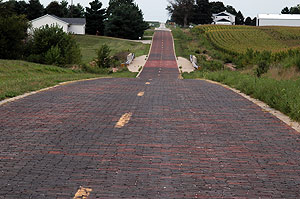 A little piece of brick road from 1931. Auburn, IL
Day 2: Chicago, IL - Springfield, IL
(

Miles:187, Kilometers:301)

Take a cab or Uber and drive to our rental location, where you pick-up you motorcycle(s). The bike you have booked has been prepared for you, and optional insurance can be purchased. But just as a precaution: remember to check the bike thoroughly for scratches or damage of any kind, and make sure there is oil and fuel in the tanks. After all, for the next two weeks, this is your ride.

Start on the ultimate American road trip. Parallel to I-55, (the Interstate 55) the legendary Route 66 began its run right here. It cut through the state before it ran the whole way to the Pacific Coast. Along the way you'll see old-time diners and service stations which are a real slice of Americana. Riding South from Chicago, you will pass the old archetypal truck stop town of McLean, but we don't linger, instead you barrel through the coal-mining area of Illinois and continue along the Pontiac Trail, as this road used to be known.

Next stop is Joliet, which you may already know was the home of the Blues Brothers. Then it's onto Wilmington and lunch at the Launching Pad drive-in restaurant. Outside "The Gemini Giant", one of the most famous "muffler men" stands guard.

Afterwards you drive Route 66 past the old gas station at Odell (a classic bit of Americana), to the Route 66 Hall of Fame museum in Pontiac, before arriving in Springfield, today's final stop.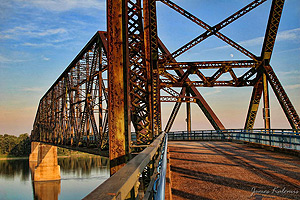 Chain of Rocks Bridge over Mississippi River, St. Louis, MO
Day 3: Springfield, IL - St. Louis, MO
(

Miles:111, Kilometers:179)

Making your way south, you head towards the state of Missouri on your way to St. Louis, a town rich in history. Along the way, you will pass through a number of Highway towns, which are great places for a stop en route. One thing's for sure, you should see the famous Dixie truck stop, "Our Lady of the Highway Statue", Litchfield and the "Ariston Café". And of course you couldn't miss the famous "Chain of Rocks Bridge" - at least from a distance as it is now closed to motor traffic. Now you are properly in Missouri, the state where the Mississippi River meets the Missouri River, and where you can find both forests meet the grassland prairies. It's a short ride from the state border into the "Gateway to the West," St. Louis, a dynamic and cultured city nestled along the shores of the almighty Mississippi River.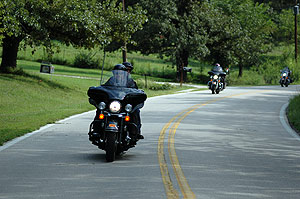 Beautiful country roads in Missouri
Day 4: St. Louis, MO - Springfield, MO
(

Miles:216, Kilometers:348)

Soon after you will have St. Louis in your rear view mirrors as you leave the city for the rolling Missouri hills. You will also set aside some time to visit Meramec Caverns as you head for the Mississippi River – a complex of mineral formations which are as rare as they are exquisite. You will soon see why this is such a popular stretch for riders.

You can stop at Stanton and the Jesse James Museum at Meramec Caverns. There's a wax museum, but the caves are the real attraction. Around 70 years after James supposedly died, artifacts relating to Jesse & his gang were discovered in these caves. Apparently, this is where they hid the loot they had stolen on their many raids.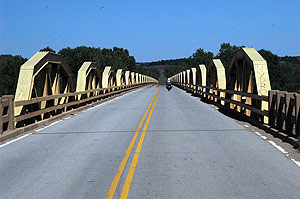 The "Pony" Bridge near Bridgeport, OK
Day 5: Springfield, MO - Oklahoma City, OK
(

Miles:312, Kilometers:494)

You visit "Gay Parita Service Station" just West of Springfield MO. This is a must stop in a wonderful world of Route 66 attractions. You could easily spend hours just going through all the treasures there.

Welcome to Kansas! Kansas has got the shortest stretch of Route 66 asphalt: only 13 beautiful miles. In Galena there is a chance you meet "Tow Mater" from the movie CARS – the original 1951 International boom truck next to the old garage on the old Route 66.

On your way to Baxter Springs, Kansas and just few miles west of Riverton we come to the Marsh Arch "Rainbow Bridge" on the old alignment of Route 66. This is one elegant old bridge, though it is far smaller than the old Spring River Bridge, which did not survive the "new is better" ethos so evident during the 1970s and 80s.

However, not on Route 66 but with a little detour you can visit the Totem Pole Park (listed on the National Register of Historic Places) - home to the World's Largest Concrete Totem Pole, a 90 foot totem pole that towers over the park in an astonishing array of folk art colors, with the four nine-foot Indians near the top each representing a different tribe.

Between 1937 and 1948, one Ed Galloway built the totem pole utilizing some 28 tons of cement, six tons of steel, and 100 tons of sand and rock. Ed's personal tribute to the American Indian features a collection of some 200 carved pictures.

Seaba Filling Station: listed on the National Register of Historic Places, this Route 66 landmark is now filled with over 65 vintage motorcycles from 1908 to present. The Seaba Station was built in 1921, five years before historic Route 66 was certified as a national highway. Let you pay a visit to browse through motorcycle displays, antiques, souvenirs and more.

At Arcadia, Travelers frequently pause to consider the statue of Washington Irving, and all his works and deeds. Then there's the iconic Round Barn, according to many the most photographed spot of all on Route 66. These days there is yet another reason to stop in Arcadia: POP'S, a somewhat futuristic looking restaurant on Route 66 that's bound to become one of the many instantly recognizable landmarks on "America's Main Street"!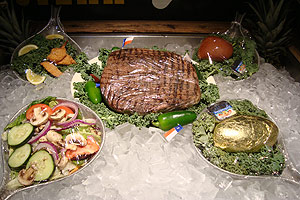 72oz (2kg) steak. Free if you can eat it! Amarillo, TX
Day 6: Oklahoma City, OK - Amarillo, TX
(

Miles:267, Kilometers:427)

The National Cowboy & Western Heritage Museum on Oklahoma City features a superb collection of classic and contemporary western art. The exhibition wing houses a turn-of-the-century town and interactive history galleries that focus on the American cowboy, rodeos, Native American culture, Victorian firearms, frontier military and western performers.

All in good fun, but you should continue your trip West reaching the interestingly named South Canadian River and the 38-arch bridge which traverses it. This bridge was indeed constructed using 38 low-rise truss arches, some 19 on each side. These arches are also known as "ponies": they are painted yellow and visible from some distance. It's here you get the authentic feeling that comes from riding on a two-lane cement road which hugs the very contours of the earth, and rises and falls gently with the hills. Going down this road you get a sense of what it must've been like crossing Route 66 back in the 1930s ... except that you're almost certainly going much faster than they did back then!

The seams in the cement reverberate with a gentle rhythm on the ride up to the Oklahoma Route 66 Museum. Largely due to Jim Ross and Shellee Graham's many fine Route 66 photographs, probably this is the best out of the many museums on Route 66 (Clinton OK).

Get up nice and early for your trip into the Panhandle, the southernmost portion of the Great Plains. Frequently referred to as "the real Texas", the Panhandle really lives up to the popular stereotype of how Texas is supposed to look. Where the buffalo once roamed and the indigenous peoples once lived was considered perilous and uninhabitable frontier country. However its value went up sharply during the 1870s as a source of natural resources - specifically Helium, especially in Amarillo, and oil. Together with agriculture, this brought enormous wealth to the region. Although Amarillo can seem cut off, even from the rest of Texas, it sits on one of the great American cross-country routes – the I-40 (once a part of legendary Route 66), roughly 300 miles from Albuquerque and 250 miles west of Oklahoma City. Home to a few of the world's largest cattle ranches, Amarillo takes its name from Spanish and means "yellow", the color so distinctive to this territory. Not only that but our good buddies from "The Big Texan Steakhouse" will pick everybody up at the hotel in a fleet of old Cadillacs with giant bull horns across the hood. On tonight's menu are the finest steaks in the whole of Texas! Do not forget to arrange your complimentery limo ride from the hotel reception!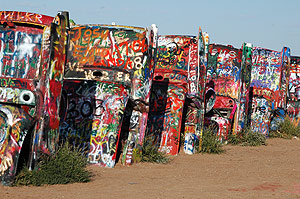 Cadillac Ranch, near Amarillo, TX
Day 7: Amarillo, TX - Santa Fe, NM
(

Miles:303, Kilometers:488)

Prepare yourself for what will be a long, hot day riding through cowboy country, with prairie land stretching off into the distance. At least some of the time, you will be riding on I-40, since parts of the old Route 66 are no longer is drivable in this area. First stop is the famous "Cadillac Ranch", where you can add your signature to a truly unique work of art. Then ride onto Adrian, which is "Midpoint U.S. Route 66". Yes, you are halfway to Los Angeles now. Drink a cup of coffee at the local Midpoint Café, a classic American diner, before you ride out of Texas and into New Mexico. We continue to Tucumcari where you visit the "Blue Swallow" (which prides itself on being the friendliest motel on Route 66). Eat lunch in Tucumcari, before driving to Santa Rosa.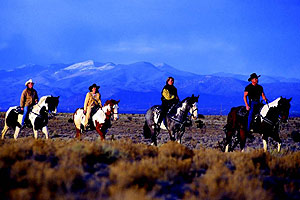 Horseback riding, Santa Fe, NM
Day 8: Santa Fe, NM
As you have now covered over half the distance of our Route 66 adventure, it's a good time to take a day off the road, recharge the batteries and enjoy more of wonderful Santa Fe. The city is located high in the mountains; scenic "Sangre de Cristo", and is rich in Spanish and Native American history and culture. This unique blend can be seen clearly in the local art and architecture. The whole day is free to spend as you desire.
You can relax by the pool, enjoy one of the many art galleries, explore Santa Fe on your own or with a guided city tour, or visit one of the town's micro-breweries. You can even buy arts and craft in the local market, but whatever you do, don't forget to try "The Green Chili Stew" which has become a favorite among our guests. Santa Fe's cuisine deserves its stellar reputation. In the evening we go to a real cowboy restaurant to eat steak, drink beer and whiskey – and enjoy the real cowboy way of life.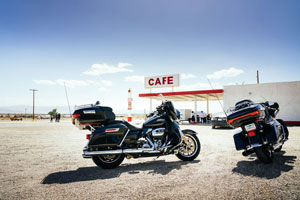 Riding in New Mexico
Day 9: Santa Fe, NM - Gallup, NM
(

Miles:200, Kilometers:320)

You leave cowboy country behind this morning as ride into Native American territory. It will be an eventful day as you ride through lands that for centuries American Indians have called home. Start by riding the narrow and winding roads to Madrid, where scenes from the "Wild Hogs" movie with John Travolta were filmed. You can walk into the very same bar where the guys sat in the movie, and relax with a drink. Then head for the Route 66 Casino just outside Albuquerque, to eat lunch.

Then it's straight to Acoma Sky City, a several hundred years old Native American pueblo, built on top of a high "Mesa" (rock formation). You park outside the Acoma Museum, buy tickets, and take the bus up to the holy city (it is forbidden to walk up on your own). When you arrive at the top, you must stick together and close to the guide. This is the place to purchase traditional, handmade Native American art. You finish the day by driving to Gallup.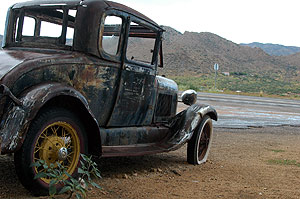 A forgotten beauty at Hackberry, AZ
Day 10: Gallup, NM - Williams, AZ
(

Miles:244, Kilometers:390)

You will be driving through an unforgettable landscape today, traversing Navajo and Apache territory to the Petrified Forest and the Painted Desert. The Petrified Forest is comprised of colorful, petrified wood. But what about the desert? Has the sand really been painted? After driving through this remarkable nature reserve, you continue to Holbrook and Winslow, where we make a stop at the "corner". Eagles fans know what "Standing on a corner in Winslow, Arizona" means. You will also sit down and enjoy lunch in Winslow.

After you glucose recovery you continue along Route 66 to Williams, which is a raw Route 66 town with many souvenir shops that are worth a visit. You will stay here for a fun night.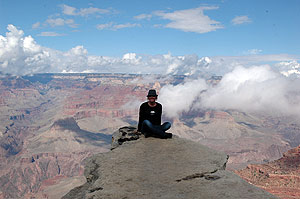 Sitting on the edge. Grand Canyon, AZ
Day 11: Williams, AZ - Grand Canyon - Kingman, AZ
(

Miles:271, Kilometers:433)

This is the highlight of the tour for many of our customers. First, you drive to the Grand Canyon helicopter base. Those who have ordered the helicopter tour will truly experience something they will never forget. To hover in the air, over one of the seven wonders of the world and see this natural phenomenon up close is something beyond compare. We highly recommend it. After the helicopter ride, you drive a short distance to the visitor center, where you have the chance to watch the world's most viewed Imax movie. Watching the film it feels almost like you are standing right inside the Grand Canyon. But you will experience it for real, when you ride into the Grand Canyon. Now you can take what will surely be this year's vacation photo! NB: Helicopter rides must be booked in advance.

You drive to the little town of Seligman, which has one best claims to be the place of Route 66's origin. With its Wild West storefronts and Route 66 paraphernalia everywhere, it's a photo opportunity of a different kind.

This rest of the day will consist of riding through the desert, which means high temperatures but epic scenery. You'll make a stop at Hackberry, a traditional Route 66 gas station, that is like something out of an old movie. There will be enough time to enjoy an ice cream or cola in the shade.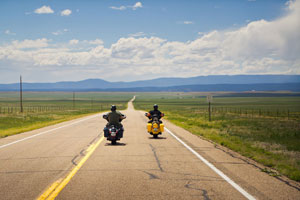 California desert riding
Day 12: Kingman, AZ - Las Vegas, NV
(

Miles:143, Kilometers:229)

Back on Route 66, you are now on our way to Las Vegas. Great desert driving today. You will spend a night in Vegas, perhaps you may not be able to resist the city's casinos and nightlife, its glitz and glamour. Welcome to the city often called the "Adult Disneyland" or simply, "Sin city".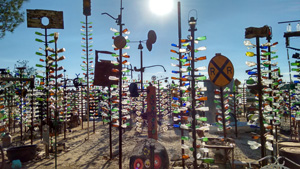 Elmer's bottle farm near Oro Grande, CA
Day 13: Las Vegas, NV - Big Bear Lake, CA
(

Miles:219, Kilometers:352)

You are on your way to the sunshine state of California, the final state on your journey across the famed Route 66. We traverse the dunes and salt flats of the so-called Devil's Playground. Indeed the Mojave Desert offers some of the most striking scenery in Southern California - or anywhere for that matter. Think dramatic volcanic formations, rolling grasslands, clusters of Joshua trees, and even in some spots, Pinion pine trees. Leaving the desert for dust, your ride takes you into the cooling forestlands of the San Gabriel Mountains.

Our trip from Vegas to California entails a day of riding on city, highway and desert roadways, and it will get very hot. We recommend riding with a hydration (cooling) vest, which makes it much easier to cope with the heat. You eat breakfast and go for a ride on "the strip" before taking a group photo in front of the famous "Welcome to Las Vegas" sign.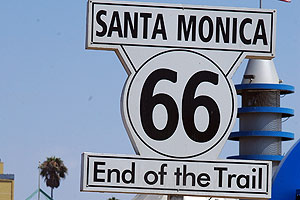 Santa Monica Pier, Los Angeles, CA
Day 14: Big Bear Lake, CA - Los Angeles, CA
(

Miles:157, Kilometers:253)

It will be with a mixture of emotions that you set out for the final destination of your legendary American road trip – Los Angeles. You make directly for Santa Monica, for the very good reason that Historic Route 66 actually comes to an end on Santa Monica Boulevard. When you see the "End of the Trail" sign on Santa Monica Pier, you're bound to feel a sense of accomplishment, having finally made a dream come true, but also some sadness that the ride has finally ended. Of all LA's resorts, Santa Monica is the largest and the oldest. Back in the flower-power days it was a hedonistic beachfront playground. It is still a liberal kind of place, but a lot more health-conscious these days. Now you have the afternoon free for sightseeing and can take in Beverly Hills, Rodeo Drive, the famous Chinese Theatre, and so much more besides.
Day 15: Los Angeles, CA
This journey of a lifetime comes to its end today in Los Angeles, unless of course you would like an extra night or two in L.A. – in which case let us know. We can even arrange a discounted motorcycle rental!
Rates (per person):
Various discounts may apply (group booking, early-bird, last-minute etc - please contact us for your special rate)
1 rider 1 motorcycle 1 room from: US$5,495.00 (£4,341.00, AU$8,297.00, NZ$8,902.00, 5.000,00 €)
2 people 1 motorcycle 1 room, per person from: US$2,945.00 (£2,327.00, AU$4,447.00, NZ$4,771.00, 2.680,00 €)
2 people 2 motorcycles 1 room, per person from: US$4,295.00 (£3,393.00, AU$6,485.00, NZ$6,958.00, 3.908,00 €)
What's included in self-guide tours?
All hotel accommodations
Late model motorcycle rental
Unlimited mileage
Helmets for driver and passenger
All taxes, fees, and environmental surcharges
Transportation between hotel and rental location (within 5 miles, save receipt for rental location)
One Way Transfer fees (motorcycle only)
Mobile Tour Guide App
Sights and attractions pdf file
Detailed day by day or hour by hour itinerary
Routing with scenic drive specific for motorbikes
Tips for local areas
What's NOT included in self-guide tours?
Airfares
Motorcycle security deposit (amount based on selected insurance)
Food and snacks
Beverages
Fuel and oil
Insurance
Tips
Personal souvenirs
Parking fees, park entrance fees, road or toll charges
Seasonal surcharges
Rally surcharges
Transfer airport-hotel-airport
Cancellation terms: Self-guide tours
31 days or greater cancellation notice: No charge, security deposit is (20%) non-refundable, but can be used as store credit.
Cancelling between 30-21 out from your tour start date will have a 33% cancellation fee and the remainder will be put into store credit.
Cancelling between 20-11 out from your tour start date will have a 66% cancellation fee and the remainder will be put into store credit.
Cancelling inside of 10 days would forfeit everything as a cancellation fee.
Refunds, if applicable, will be issued in a form of store credit that can be redeemed within 1 year from the date it was issued.
Cancellation/Change Fees: Fees are based on Total Booking Amount (Daily rental rate + VIP/VIP Zero, Taxes & Fees).
Payments: Deposits are non-refundable, some payments in the event of cancellation can be used as store credit.
Any and all balances remaining after Cancellation Fees have been applied will be issued in the form of a Store Credit that may be redeemed within one year.
Insurance
Various motorcycle insurances are available that you can book with your rental, for more information please have a look at our Insurance webpage.
To book this tour we need following information from you:
Rider(s): name, jacket size (guided tour only), nationality, home address, required insurance option(s): VIP Zero, VIP, SLI, selection of motorcycle model choice, room type: one or two beds in room? Any additional hotel rooms before or after the tour?
Pillion(s): name, jacket size (guided tour only), nationality
Booking deposit: 20% per motorcycle
Final payment: 6 weeks before tour commences
Payment method: bank transfer to our bank account. We also accept US personal checks (scanned to e-mail or mailed to our office).
PayPal and MoneyGram payments are not accepted
Please note: please do not purchase domestic/international airline tickets until tour is confirmed by us!