Two Wheels to the Wild West (Guided and self-guided Motorcycle Tour)
Experience the Wild West from the seat of the legendary Harley Davidson. Breathtaking scenery, whether desert, canyon or mountains, and exciting cities make this the 16 day journey of a lifetime. Take in the major attractions of the South-West such as Yosemite, Death Valley, Monument Valley, Bryce Canyon and the Grand Canyon, San Francisco, Las Vegas and Los Angeles. When your ride across the Wild East comes to an end, you'll have travelled over 2000 miles of road, and unforgettable sights, such as the California coastline via Big Sur on Highway #1, for the last leg of the tour.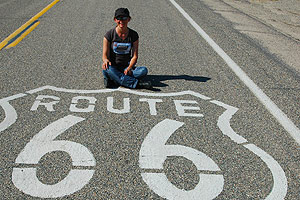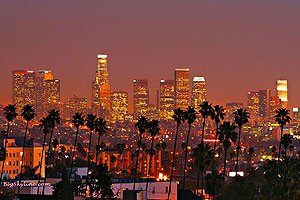 Los Angeles
Day 1: Arrive to Los Angeles, CA
On arrival, you take the shuttle bus to the Los Angeles airport hotel. Waiting for you in the lobby will be our representative, who will welcome you and give you more information about the journey ahead. This evening you meet your fellow riders for dinner and drinks at a highly recommended local restaurant.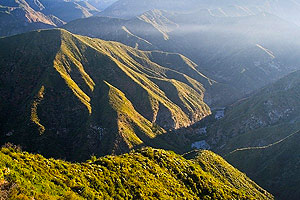 San Bernardino National Forest
Day 2: Los Angeles, CA - Palm Springs, CA
(

Miles:190, Kilometers:306)

Following a hearty Welcome Breakfast you will be transferred to a rental location in Los Angeles, to pick up your bike. The open road awaits! After an orientation session, it's time to head south, riding the mountain road as it winds down to Lake Elsinore. After lunch, fly like an eagle with the wind at your back along the roads of San Bernardino National Forest until you reach the desert resort town of Palm Springs, where you spend the first night. Probably the outstanding part of the day is a 28 mile stretch of non-stop s-curves with an elevation drop of over 4,000 feet!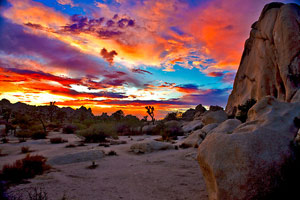 Joshua Tree National Park
Day 3: Palm Springs CA - Laughlin NV
(

Miles:232, Kilometers:374)

It's just about time for your first taste of Route 66, but first we ride a loop through Joshua Tree National Park. The incredible rock formations and colors will rock your visual world. At the old frontier town of Twentynine Palms the trip takes on a legendary dimension, as we enter Historic Route 66 at the eerie ghost town of Amboy. If you have always wanted your photo taken above one of the famous Route 66 logos painted on the old highway, this is your chance. The day ends as we cross the state line into Nevada, arriving in Laughlin. This is Nevada's third best known gaming town, where we overnight.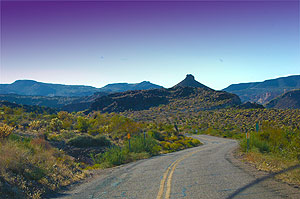 Old Route 66 leading to Oatman
Day 4: Laughlin NV - Grand Canyon AZ
(

Miles:245, Kilometers:394)

Our ride on the fabled Route 66 continues into Arizona. We make a stop to check out the 'burros': wild donkeys that roam the streets of quaint Oatman town. Then it's onto Kingman, often said to be "The heart of Historic Route 66", located as it is, at virtually dead centre of the longest original expanse of the old "Mother Road". From Kingman it's onto Seligman, another surviving stretch of the original Route 66. This takes us in a northerly loop through the Hualapai Indian Reservation. We stop for lunch and then ride towards the Grand Canyon; if you haven't seen it before, nothing can really prepare you for its magnificence. There will be ample time to enjoy a refreshment and take in the incredible sunset from the South Rim of the Grand Canyon.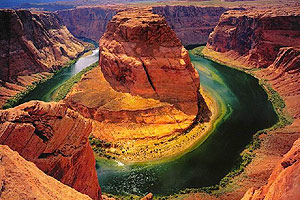 Grand Canyon
Day 5: Grand Canyon AZ - Monument Valley UT
(

Miles:170, Kilometers:274)

Morning at the Grand Canyon and it's another photo opportunity with some awe inspiring views. After that, we ride the South Rim for a few miles, finally leaving Grand Canyon National Park by the East entrance. Then we're on our way to the remarkable Monument Valley. This is Navajo Country and just to prove the point, today you can enjoy an authentic Navajo lunch. The landscape of stark and isolated sandstone hills and dramatic rock formations, rising up from a seemingly endless expanse of red sands, just screams 'Wild West'. At Monument Valley you can see how much the popular imagination of the old west was moulded by this one place. Such scenery exists in other places but nowhere is it more dramatic as in the Monument valley. We overnight in Kayenta, which is the perfect spot to get into an Indian spiritual mood.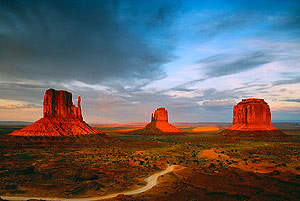 Monument Valley
Day 6: Monument Valley UT - Bryce Canyon UT
(

Miles:340, Kilometers:547)

Saying farewell to Kayenta we will head up to the former gold mining town of Mexican Hat. This now sleepy little township takes its name from a riverside rock formation which looks like a south-of-the-border sombrero. Riding on, we come to the Valley of the Gods, which you will probably recognize from the movie "Thelma and Louise". In any case, it's spectacular. From there we ride across the Colorado River, at the point where it flows into Lake Powell. Interestingly, Lake Powell has 96 water-filled side canyons and some 1960 miles of shoreline, more than the entire Pacific Coast. The ride continues along the southernmost tip of Capitol Reef National Park, to the Glen Canyon National Recreation Area. Then we roar on up through the Escalante Wilderness to the so-called Devil's Backbone en route to Bryce Canyon, where we overnight.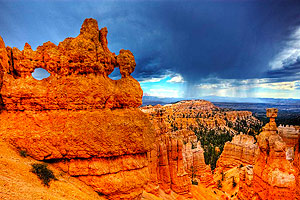 Bryce Canyon
Day 7: Bryce Canyon UT - Las Vegas NV
(

Miles:250, Kilometers:403)

We have enough time this morning to visit the amazing Bryce Canyon – not so much a canyon as a collection of giant natural amphitheatres - before we continue on our way to Zion National Park. The park is home to the most majestic rock formations on the face of the earth, but you are also in for perhaps the most demanding ride of the trip here – the switchbacks of Zion! Compared to Yosemite and the Grand Canyon, Zion feels more remote, cut off from so-called civilization. Yet oddly enough, from Zion it is just a short ride to the neon nightlife and gambling nirvana that is Las Vegas. Those among the party ending their trip in 'sin city' will enjoy a Good Bye Dinner this evening.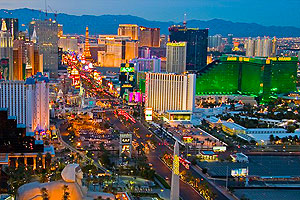 Las Vegas
Day 8: Las Vegas, rest day
A whole day in which to gamble, sightsee, eat and drink or whatever your heart desires: Vegas has something for just about everyone. Probably not wise to stay out too late though, we've an early start the next day!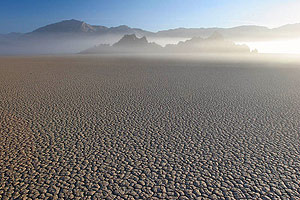 Death Valley – the hottest place on earth!
Day 9: Las Vegas - NV, Mammoth Lake CA
(

Miles:315, Kilometers:507)

Leaving the bright lights of Vegas behind we head west, where our ride takes us through Death Valley – famously the hottest place in the world! As you'll soon notice, it's almost entirely lacking in shade. The valley's chiseled tiers of rock form crevices at the foot of sharply silhouetted hills: exotic mineral content transforms prehistoric mudflats into spectrums of sun baked iridescence. Riding Death Valley is hot and thirsty work so we take an early lunch at Furnace Creek Ranch. Then after negotiating a series of mountain curves, we will have dropped hundreds of feet below sea level to discover ourselves in the basin of Death Valley. It's time to head west again, riding through Sequoia National Park up to Mammoth Lakes, which are a popular spot for mountain biking in summer and skiing in the winter.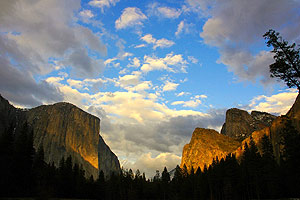 Yosemite National Park
Day 10: Mammoth Lake CA - Yosemite CA
(

Miles:150, Kilometers:242)

Leaving Mammoth Lakes for dust our trip continues northwards for a while before we arrive at the notorious Tioga Pass to traverse Yosemite National Park. Through the winding granite canyons we go, giving both you and your Harley a proper workout. For the first several miles, muscle flexing turns are standard and the road demands all your attention as at last we enter the mother of all US National Parks. The very name Yosemite conjures up such a range of imagery, and raises expectations about as high as they can go. Yet as you'll see, Yosemite is just as stunningly scenic and untamed as you could ever expect – and then some. The day's ride finishes at El Portal (the gateway), where we overnight.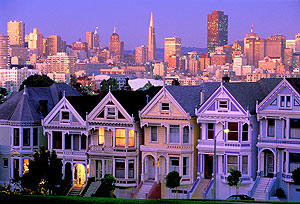 San Francisco
Day 11: Yosemite CA - San Francisco CA
(

Miles:200, Kilometers:322)

Our bikebound exploration of Yosemite National Park continues for a while before yet again we head west – this time towards San Francisco. Crossing San Rafael Bridge takes us into Marin County, which is often rated the wealthiest county in all of the US. It's a playground for the rich, but also lovers of natural beauty; where deep redwood forests, mountains and sandy beaches compete for your attention with flashy displays of wealth. We stop at picturesque Sausalito, a seaside town that was once lined with saloons and sailors on shore leave. These days it's more like the French Riviera. After lunch we head directly for the iconic Golden Gate Bridge and right into San Francisco, where we'll stay for the following two nights.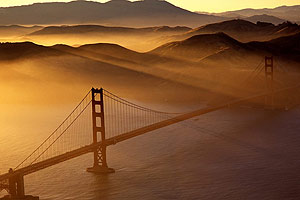 San Francisco
Day 12: San Francisco CA, rest day
You have the whole day at your leisure to explore San Francisco, arguably the most liberal city in the US. It's a hip, highly individualistic, and surprisingly compact place which has an almost European panache and offers many opportunities for sightseeing. We offer several optional excursions today, such as a Cable Car rides, a Bay Cruise, a trip to Alcatraz, or even a Napa Valley wine tour. Or you can just go at your own pace.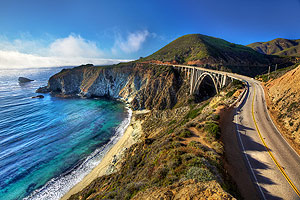 Bixby Bridge on US Highway #1
Day 13: San Francisco CA - Monterey CA
(

Miles:118, Kilometers:190)

Today as we ride the craggy coastline, you'll get your first taste of what is widely held to be one of the best motorcycle rides in the world, heading south on the celebrated PCH (Hwy #1) along the Pacific Ocean. En route to Monterey, we'll admire splendid views of the coves and inlets of the Pacific. Monterey is home to the world renowned Laguna Seca Automobile and Motorcycle Racetrack and the Monterey Bay Aquarium. The coastline here is simply astonishing and there's plenty of scope for great photo stops. We overnight in Monterey.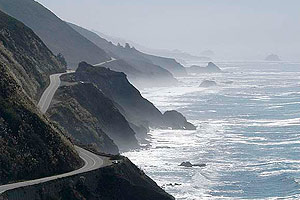 Big Sur Coastline, US Highway #1
Day 14: Monterey CA - Pismo Beach CA
(

Miles:152, Kilometers:245)

Our ride along scenic Hwy #1 continues in style, hugging the cliff's edges of the wild and undeveloped Big Sur Coast. The 90-something miles of rocky cliffs form a transcendent landscape where river canyons are lined with redwood groves, and where the Santa Lucia Mountains rise spectacularly out of the blue-green Pacific. About halfway along the Big Sur Coast we arrive at Esalen. Located on a cliff top high above the raging Pacific surf, Esalen is named after the long gone native tribes who must have once enjoyed its natural hot springs. Cruising by San Simeon, Cambria and Morro Bay we eventually come to Pismo Beach. A special treat - our overnight stay tonight is at a luxurious ocean resort.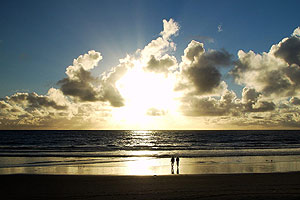 Venice Beach
Day 15: Pismo Beach CA - Los Angeles CA
(

Miles:225, Kilometers:362)

The final day and we get our motors running, and head out on Hwy 101 one more time – this time heading towards Los Angeles. We cut inland at Santa Maria for some fun on the scenic back roads to be found there. At Santa Barbara it's back onto Hwy 101, and then we ride directly into Malibu, the beach colony favoured by the rich and famous. Some twenty miles later we come to Santa Monica and Venice. Santa Monica is LA's biggest resort – and its oldest. In the 1960s it was a far out beachfront playground. These days it's a liberal and overtly health conscious community. Just look at the bodies at Muscle Beach in Venice. People come to Venice Boardwalk from all over the world – because nowhere else does LA parade itself as it does here. From Venice there's just one more ride, and that's to our drop-off location, to return your motorcycle and transfer back to the hotel for the "Good-bye" dinner, where you can cherish all the great memories still fresh in your mind.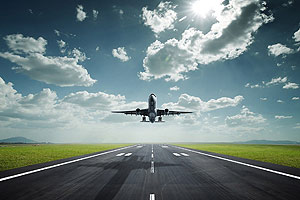 See you on our next trip!
Day 16: Departure
The hotel shuttle will transfer you to Los Angeles International Airport. See you on your next biking vacation!
Map:
Tour dates (English):

Jun 01, 2017
- Jun 16, 2017

Jun 22, 2017
- Jul 07, 2017

Jul 13, 2017
- Jul 28, 2017

Aug 03, 2017
- Aug 18, 2017

Aug 10, 2017
- Aug 25, 2017

Aug 31, 2017
- Sep 15, 2017

Sep 07, 2017
- Sep 22, 2017

Sep 14, 2017
- Sep 29, 2017 -
Sold out

Sep 21, 2017
- Oct 06, 2017

Sep 28, 2017
- Oct 13, 2017

Oct 05, 2017
- Oct 20, 2017
Tour dates (German Exclusive Language):

May 30, 2017
- Jun 14, 2017

Sep 13, 2017
- Sep 28, 2017

Oct 04, 2017
- Oct 19, 2017
Tour dates (Italian Exclusive Language):

Jun 21, 2017
- Jul 06, 2017

Aug 02, 2017
- Aug 17, 2017
Tour dates (Spanish Exclusive Language):

Jun 21, 2017
- Jul 06, 2017

Aug 09, 2017
- Aug 24, 2017
Tour dates (French Exclusive Language):

Jun 21, 2017
- Jul 06, 2017

Aug 09, 2017
- Aug 24, 2017
Back to top
Prices for Guided Tours (per person):
1 rider 1 motorcycle 1 room: US$8,011.00 (£6,249.00, AU$10,735.00, NZ$11,296.00,R 102 941,00, 7.130,00 €)
2 people 1 motorcycle 1 room: US$4,807.00 (£3,749.00, AU$6,441.00, NZ$6,778.00,R 61 770,00, 4.278,00 €)
2 people 2 motorcycles 1 room: US$5,964.00 (£4,652.00, AU$7,992.00, NZ$8,409.00,R 76 637,00, 5.308,00 €)
Prices for Self-guided Tours (per person):
1 rider 1 motorcycle 1 room: US$5,472.00 (£4,268.00, AU$7,332.00, NZ$7,716.00,R 70 315,00, 4.870,00 €)
2 people 1 motorcycle 1 room: US$2,886.00 (£2,251.00, AU$3,867.00, NZ$4,069.00,R 37 085,00, 2.569,00 €)
2 people 2 motorcycles 1 room: US$2,984.00 (£2,328.00, AU$3,999.00, NZ$4,207.00,R 38 344,00, 2.656,00 €)
Cancellation terms: Guided tours
Cancellations received less than 45 days prior to the tour departure date will be subject to the following penalties:
45 days or greater cancellation notice: No charge & refunded booking security deposit.
44 -31 days cancellation notice: Up to 50% loss of total Tour price to cover hotel & other costs. Rental Voucher for the remaining amount for future travel.
30 days or less: Up to 100% loss of total Tour price. Rental Voucher for any remaining value for future travel.
Because of the chance of illness, accident, airline inefficiency, company insolvency or other unforeseen situations that may cause a customer (you) to miss a tour, we suggests to purchase travel/trip cancellation insurance. It is a little expense that gives you piece of mind, highly recommended!
Cancellation terms: Self-guide tours
Motorcycle rental cancellation:
31 days or greater: none.
30 - 21 day or greater cancellation notice: 30% of Total Booking Amount.
20 - 11 day cancellation notice: 60% of Total Booking Amount.
10 or less day cancellation notice: 100% of total booking amount.
Cancellation Fees: Fees are based on total booking amount (daily rental rate + daily mileage option + VIP/EVIP).
Booking Changes: Fees of $25/per change, per Invoice will apply to any changes made to a confirmed booking less than 30 days. Changes include but are not limited to, change in motorcycle model, pick-up/return cities, dates, and one-ways.
Package tour (vehicle rental + hotel reservations):
46 days or greater: none.
30 - 45 day cancellation notice: 35% of total booking amount.
15 - 29 day cancellation notice: 65% of total booking amount.
14 day or less cancellation notice: 100% of total booking amount.
Cancellation Fees: Fees are based on Total Booking Amount (Daily rental rate + Daily Mileage Option + VIP/EVIP + hotel rooms and taxes).
Insurance:
Various motorcycle insurances are available that you can book with your rental, for more information please have a look at our Insurance webpage.
What's Included in guided tours?
Guaranteed first motorcycle model choice
All hotel accommodations - with highest costumer ratings selected
Highest Customer Rated Hotel Accommodations
Concierge Service
Leather-Bound Road Book
Road maps
"Badge of Honor" Tour Patch
Late model motorcycle rental
Unlimited mileage
Free fuel & oil
Online map tracking for family and friends
Every day facebook photo uploads
Welcome & Farewell Celebration with dinner
Helmets for driver and passenger
Daily Breakfast
Professional Tour Leaders
Support Vehicle equipped with spare bike and room for additional luggage
Door to door luggage service
All taxes, fees, and environmental surcharges
National Park entrance fees
Hotel Parking fees
Discounted Activities (group-priced entry tickets)
One Way Transfer fees
Transportation between hotel and rental location
Custom Riding Jacket (you will keep it)
What's included in self-guided tours?
All hotel accommodations
Late model motorcycle rental
Unlimited mileage
Helmets for driver and passenger
All taxes, fees, and environmental surcharges
Transportation between hotel and rental location (within 5 miles, save receipt for rental location)
Co-pilot book
Detailed day by day or hour by hour itinerary
Routing with scenic drive specific for motorbikes
Tips for local areas
GPS Navigation Unit (taxable): $15.00 per day (Required Security Deposit: Authorized $250 Hold on a major credit card)
Customized Pre-Planned Trip to the GPS Unit (taxable): $10.00 per day
What's not included in guided tours?
Airfares
Food and snacks (except for welcome & farewell meals)
Transfer airport-hotel-airport
Beverages
Tips
Personal souvenirs
What's not included in self-guided tours?
Airfares
Food and snacks
Beverages
Fuel and oil
Insurance
Tips
Personal souvenirs
Parking fees, park entrance fees, road or toll charges
Motorcycle security deposit (amount based on selected insurance)
Seasonal surcharges
Rally surcharges
Transfer airport-hotel-airport
To book this tour we need following information from you:
Rider: name, jacket size (guided tour only), nationality, required insurance option(s): VIP Zero, E VIP, VIP, SLI, 1st and 2nd motorcycle model choice, room type: one or two beds in room? Any additional hotel rooms before or after the tour?
Pillion: name, jacket size (guided tour only), nationality
Booking deposit: $1,000 per motorcycle (wire transfer to our US bank account)
Final payment: 6 weeks before tour commences
Please note: do not purchase international airline tickets until tour is confirmed by us!