Easy Rider Motorcycle Tour: follow the roads of youth, adventure and freedom!
There are motorcycle movies, and then there is Easy Rider. Over 49 years after the movie hit the silver screen, it still sets the standard by which all other biker and motorbike movies are judged. In 1969, it gave the world a mind-blowing taste of the freedom of the open road on a two wheeled chariot. The whole world - and motorcyclists in particular, couldn't get enough of it. Who could be so dead in spirit, they wouldn't want to trade places with "Billy" or "Wyatt", even just for a day or two, on the open road? Well, now that dream can become a very tangible reality, as real as the roar of the engine or the feel of wind in your hair.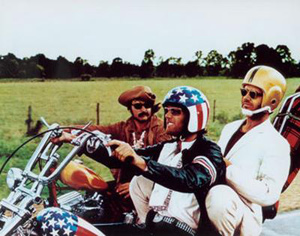 Billy and Wyatt just started riding
Route 66 Motorcycle Tours are proud to present the Easy Rider tour. We have worked with renowned Easy Rider movie aficionados like Alan "Mr. Zip" Dunn, and with the team at Sony Pictures to recreate the route taken by Dennis Hopper and 'Captain America', Peter Fonda.
Join us as we ride the highways of Southern California, then on through the harsh but unforgettable Death Valley. From there, we enjoin the historic trails of Route 66, riding all the way south to the party capital of Louisiana, the legendary city of jazz and blues and good times, New Orleans. There's really no better way to say it. This is the trip of a lifetime.
Along the way, our seasoned and savvy tour guides will take you down roads you thought you'd never see for real. You'll get to see props and artifacts from "behind the scenes" making of the film. Stories told to our guides over a campfire by people who worked on the production will seem all the more vivid. Photo opportunities at actual locations from the movie – yep, we'll have plenty of those. Last but definitely not least, you'll have the chance to ride a replica "Billy Bike" or "Captain America" replica on the tour. By the time the tour comes to an end, you will have become a bona fide Easy Rider. So let's get your motor running…
Tour dates

: Back to top
Prices for guided tours (per person):
1 rider 1 motorcycle 1 room: US$6,999.00 (£4,969.00, AU$8,889.00, NZ$9,519.00,R 98 336,00, 5.669,00 €)
2 people 1 motorcycle 1 room: US$4,299.00 (£3,052.00, AU$5,460.00, NZ$5,847.00,R 60 401,00, 3.482,00 €)
2 people 2 motorcycles 1 room: US$5,699.00 (£4,046.00, AU$7,238.00, NZ$7,751.00,R 80 071,00, 4.616,00 €)
Day 1: Arrive to
Los Angeles

,

CA
They call Los Angeles the "City of Angels". Now whether you believe that, it's still the perfect spot to rendezvous and meet your fellow riders. You'll have time for some sightseeing, or even to relax by the hotel swimming pool, before meeting your new best friends at 5 o'clock. After a refreshing ice breaker, we head to a great little spot we know for a hearty meal and a few tasty beverages. A few brews and a bite to eat, what better way to form bonds? We're sure Billy and Wyatt would approve.
DAY 2 Los Angeles, CA - Death Valley, CA 292.0 mi / 467.2 km
We will cover a lot of ground today, literally. But the miles just fly by when you have the sense of anticipation for the adventures to come. First we get our bikes from Panam Holiday in LA, then we tool down the road just one mile, to the scene of the drug deal in Easy Rider, the one that kicked off the whole movie. And on that note, we point our bikes northwards, in the direction of Death Valley. It's huge and unforgiving landscape, with high desert terrain and low valleys, is where Billy and Wyatt started out on their long, strange trip. There are stories aplenty from the movie, and the landscape dotted with little towns, hasn't changed much at all since 1969. After a good day's riding, we'll gather around a bonfire at the hotel, pass around a guitar and stare up at the incredible blanket of the night sky. Nothing beats spending a night in Death Valley.
DAY 3 Death Valley, CA - Needles, CA 178.0 mi / 284.8 km
The coolness of a morning in Death Valley is ideal for setting out towards Barstow, the renowned Route 66 town; familiar to Easy Rider fans and anyone who's read Fear & Loathing in Las Vegas. Then, if you are feeling wild and crazy enough, you can throw your Rolex away outside the ghost town of Ballarat, California. (Just like Peter Fonda did in the movie). Either way, we'll leave the regular, timekeeping world behind in a cloud of dust, as we head for the Mojave Desert. The huge expanse of the Mojave lies between Death Valley and the town of Needles. Arguably one of the earth's lonelier places, we'll ride through the relics and remnants of little towns on Route 66, places that clung to life, many years after the dustbowl era of the great depression in the 1930s was over. This is no doubt, one of the most desolate stretches of Route 66. Passing by ghost towns, abandoned motels, defunct gas stations and abandoned mail boxes, we are now in the heart of the Mojave. Roaring along a road so straight and long the only end in sight is a vanishing point: if you aren't feeling the Easy Rider vibe by now, it's not our fault! The day ends with a dip in the refreshing waters of the Colorado, before we head into town. We won't be looking for trouble, but maybe a bit of mischief. After all, if it was good enough for Easy Rider crew to use Needles as a base camp, it will serve us well for the night, and for story telling.
DAY 4 Needles, CA - Flagstaff, AZ 216.0 mi / 345.6 km
We bid Needles the proverbial fond farewell and cross the mighty Colorado River on Route 66, the bridge that is location for such an iconic scene from the film. With the wind at our back now, we ride on through an authentic "Old West" town, Oatman, Arizona. A bit of imagination, but not much, and you can practically see the ghosts of gold miners roaming its streets. We take in another instantly recognizable location from Easy Rider, the Pine Breeze Inn. Situated among the pine tree covered Sacred Mountains, this is where Billy and Wyatt are denied a room for the night. They're a lot more biker friendly these days, but the owner still jokes that he switches on a neon 'No Vacancy' sign, if he thinks he spots longhairs or greasers in the bar across the street. We stop there for a cold one, then head for Flagstaff. There's just time to splash water on your face and kick the dust off your boots, before we wander the streets of Flagstaff. There are a lot of spots here you'll recognize from the movie, so don't leave your camera in the hotel room.
DAY 5 Flagstaff, AZ - Monument Valley, UT 193.0 mi / 308.8 km
Leaving Flagstaff for dust we make our way north, through Navajo Indian lands. The wide open spaces here make for some gorgeous long spells of riding. Our trail winds through the Wupatki National Monument, rich in Native American ruins. We'll stop by the very same ones where Billy and Wyatt camped under the stars. Still heading north, we come to the Sacred Mountain gas station, now closed, but you'll recognize it from the movie. It's where the guys pick up a stranger who insists they needn't pay for gas. In a few hours, we come to the awe-inspiring, thousand foot spires that typify Monument Valley. Panam Holiday have a special and enduring relationship with the Navajo tribe, which means not only a private tour with Navajo guides, but an unforgettable evening. You'll be treated to "Navajo Tacos" by a roaring fire, as well as traditional music and dance. All this takes place under the shadow of the monuments as the sun sets, and is truly a mystical experience.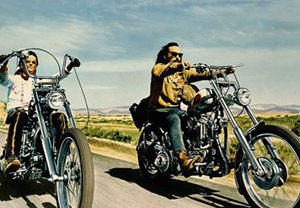 DAY 6 Monument Valley, UT - Durango, CO 140.0 mi / 224.0 km
Our journey tracing the footsteps, or rather wheel ruts of Captain America and his buddy Billy, continues through one of the more curious landmarks in the Southwest. It's called the Four Corners, and for good reason. It's a place that most bikers only ever dream of visiting. While you may have to bend and stretch a bit, to place one foot in Colorado and another in New Mexico, one hand in Utah and another in Arizona, think of the photo opportunity, plus the tale to tell, for family and friends back home. After that, it's time for us drifters to drift into the sleepy Colorado town of Durango. The so-called Hollywood of the Rockies, because so many westerns were shot here, it's surely worth dropping into one of its "Old West" saloons.
DAY 7 Durango, CO 0.0 mi / 0.0 km
And on the 7th day? Well, it's a good time to rest up and take it easy in this distinctive town, that is really like something out of the wild west. But there's plenty to do in Durango if you don't feel like kicking back. Take a ride along the storied Million Dollar Highway, enjoy a hot air balloon ride at sunrise, or even play at being a cowboy for a day, with a horseback ride along a canyon or mountain trail.
DAY 8 Durango, CO - Taos , NM 228.0 mi / 364.8 km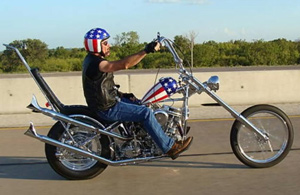 The scenery on the ride from Durango to Taos is quite simply breathtaking, and the Easy Rider biker spirit must surely move within you, along this section of the journey. A New Mexico highland town that is steeped in the culture and history of its Native American people, it also just happens to have been the location for some of the most memorable scenes in Easy Rider. All of the interior scenes in the jail, where for example we meet Jack Nicholson's character, and parts of the Hippy commune sequence were shot here. We'll visit both points of interest, rounding out a pretty far out and mind-blowing day.
DAY 9 Taos, NM - Amarillo, TX 300.0 mi / 480.0 km
You could argue that the only ride that beats the one from Farmington to Taos happens to be the ride from Taos to Amarillo! Along the way, we stop in Las Vegas – the one in New Mexico of course. This is where they shot the exterior scenes of the jailhouse, and it's one of our most beloved photo stops. Often we'll be lucky enough to find one of the town's 'old timers' – a local who can remember the days when Dennis Hopper blew into town, with all his hippy biker friends. Remember the scene where Jack Nicholson's character, "George," takes the first snort of booze for the day? "Nic Nic Nic...Fut Fut Fut…Indians!" It was shot here. You can have a shot of Bourbon and toast old DH Lawrence this evening when we pull into Amarillo. Back when they shot Easy Rider, some of the crew camped out next to DH Lawrence's grave here in Taos. The final stop for the day is a pilgrimage to the roads just outside the town of Coyote. It's where they shot the infamous "If you wanna be a bird" sequence. From long experience our most preferred hotel in Amarillo, Texas, is The Ambassador – and that's where we'll stay this evening. But before shuteye, a fleet of vintage Cadillac's picks everyone up and drives them to the Big Texan Steakhouse for some of the finest steaks in the great state of Texas! And that's saying something!
DAY 10 Amarillo, TX - Abilene, TX 287.0 mi / 459.2 km
So far we have been adhering to the Easy Rider route, almost without exception. There is a gap however, between New Mexico and Louisiana. By this stage of the shoot, both cast and crew were getting tired of their brilliant but egomaniacal director, Dennis Hopper. So they split up and went their own separate ways through Oklahoma and Texas, en route to shoot the final scenes in Louisiana. Just as the crew found their own way to New Orleans back in 1969, we have plotted our very own Easy Rider trail. This takes us through the Texas Panhandle and onto the historical city if Abilene. This town is a genuine slice of Texas style Americana, a place we never leave, without wishing we had more time to explore.
DAY 11 Abilene, TX - Austin, TX 220.0 mi / 352.0 km
The freewheeling tour on our way to New Orleans continues. On our way to that incredible city, we make time to stop in Austin, Texas: arguably, the world's live music capital. You can spend a whole night hopping from one bar to another, and taking in some of America's best musicians, because our hotel is smack dab in the middle of the 6th Street music district, which enables you to walk from bar to bar all night long while enjoying some of the best live music in the country. Music lovers will have a hard time saddling up and saying goodbye to Austin the next morning. Apparently Peter Fonda had trouble leaving Austin too, during the making of the ultimate biker pic. The story goes that Fonda stopped for a couple of days on 6th Street on his way down to New Orleans. He was said to have closed down two bars. That's quite an achievement when you consider that, even back in the 60s, most bars on 6th Street were open 24/7!
DAY 12 Austin, TX - Lake Charles, LA 290.0 mi / 464.0 km
The southern bayou state of Louisiana was the setting for some of the most unforgettable, and painfully unforgettable scenes in Easy Rider; and today we ride Eastwards - out of Texas and into the heart of the south. It's quite a long day in the saddle, but the miles usually speed by in anticipation of thrills yet to come. With its unique mix of swamps, bayous, intriguing characters and old fashioned Southern charm, Louisiana is distinctly different to anything we've seen so far on this journey. Lake Charles is our second favorite city in the state, the favorite of course being New Orleans.
And Lake Charles comes alive and takes on a different character after sundown. Let's see if the moonlight, and maybe even a little moonshine will allow the spirit of the bayou to touch you. Tomorrow, we make our way to the "Big Easy".
DAY 13 Lake Charles, LA - New Orleans, LA 245.0 mi / 392.0 km
Like it or not, the unhappy ending of Easy Rider was one of the reasons it was such a big hit, and became an instant classic. It was definitely not a Hollywood ending, to have our two anti-heroes shot and killed by a couple of rednecks. Filmed on a real country road on the outskirts of Krotz Springs, Louisiana, we ride that very same road today, pausing to reflect on how one disturbing but incredibly powerful movie would shape the lives of motorcycle riders everywhere. To ride this particular route is the experience of a lifetime, but sharing it with others lifts it into something hard to define. Billy and Wyatt begin to feel so real, it's like you could reach out and touch them. But that's enough sobering reflection. We end the day with a short ride into the party capital of the south, the battered but unbroken New Orleans.
DAY 14 New Orleans, LA 0.0 mi / 0.0 km
Almost as soon as Easy Rider opened in cinemas across the US, bikers were drawn to New Orleans as if by magnetic force. Those notorious bordello and graveyard scenes were a potent synthesis of the drug culture and biker scenes, that both made such an indelible mark on the 60s decade. Nobody could argue that Billy and Wyatt were living their lives out on the edge, all in the name of freedom. New Orleans was the ideal backdrop. These days, our experience of New Orleans may not be as "psychedelic," but it will be just as memorable, arguably more so, without a head full of acid! It's still undeniably a trip, to visit the same spots in New Orleans which you have seen on screen for all these years. The year round carnival atmosphere of the French Quarter would appeal to all but the most puritan of travelers. This evening, we feast on crawfish and gumbo, and celebrate all that we've accomplished on this journey. What better time to raise our glasses in a toast to Billy, Wyatt, George, and the late, great Dennis Hopper? It's time for some celebration. After all, we made it!
DAY 15 New Orleans, LA 0.0 mi / 0.0 km
Congratulations on having lived a dream, one that most of even the most ardent fans of Easy Rider will get to experience. After this, what could possibly come next? Canada to Yellowstone? Sturgis? Route 66? The Wild West? Canada to Yellowstone? Hopefully, it will only be a matter of time before we all ride together again. Until then Easy Riders, keep your chrome up. On a practical note, if you'd like to stay in New Orleans a few more days – and who could blame you – we will happily make arrangements on your behalf.
Cancellation terms: Guided tours
45 days or greater cancellation notice: No charge & refunded booking security deposit.
Cancellations received less than 45 days prior to the tour departure date will be subject to the following penalties:
44 -31 days cancellation notice: Up to 50% loss of total Tour price to cover hotel & other costs. Rental Voucher for the remaining amount for future travel.
30 days or less: Up to 100% loss of total Tour price. Rental Voucher for any remaining value for future travel.
Because of the chance of illness, accident, airline inefficiency, company insolvency or other unforeseen situations that may cause a customer (you) to miss a tour, we suggests to purchase travel/trip cancellation insurance. It is a little expense that gives you piece of mind, highly recommended!
Insurance:
Various motorcycle insurances are available that you can book with your rental, for more information please have a look at our Insurance webpage.
What's Included in guided tours?
Guaranteed first motorcycle model choice
All hotel accommodations - with highest costumer ratings selected
Custom Armored Riding Jacket (you will keep it!)
On-Road Concierge Service
Custom Road Book
Custom Tour Completion Patch
Late model motorcycle rental
Unlimited mileage
Fuel & oil on riding days
Wi-Fi Hotspot
Welcome & Farewell Celebration with dinner
Helmets for driver and passenger (half-face)
Breakfast on riding days
Professional Tour Leaders (Multilingual)
Support Vehicle equipped with spare bike and room for additional luggage
Support Vehicle driver
Door to door luggage service
All taxes, fees, and environmental surcharges
National Park entrance fees
Hotel Parking fees
Discounted Activities (group-priced entry tickets)
One Way Transfer fees
Transportation between hotel and rental location
What's not included in guided tours?
Airfares
Motorcycle security deposit (amount based on selected insurance)
Food and snacks (except for welcome & farewell meals)
Beverages
Tips
Personal souvenirs
Please note: please do not purchase international airline tickets until tour is confirmed by us!