Discounted Guided Motorcycle Tour from LA to Chicago
This tour is actually a perfect blend between the Guided Tour and the Self-Drive Tour. It has a fixed departure date and a van driver (no guide up front) that takes riders' luggage from hotel to hotel. The van driver will give riders route recommendations for the day each morning but from there the riders have the ability to break off and do their own thing during the day then meet up at the hotel later that day.
The pricing for this trip fall right in between as well. There are less inclusions than the Guided Tour but it is priced for those people that like the support of a Guided Tour but want the freedom to ride during the day.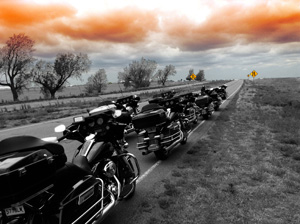 On the way to East (Texas)
Dates:
Prices (per person):
1 rider 1 motorcycle 1 room: US$4,715.00 (£3,536.00, AU$6,365.00, NZ$6,790.00,R 66 246,00, 4.055,00 €)
2 people 1 motorcycle 1 room: US$2,881.00 (£2,161.00, AU$3,889.00, NZ$4,149.00,R 40 478,00, 2.478,00 €)
2 people 2 motorcycles 1 room: US$3,479.00 (£2,609.00, AU$4,697.00, NZ$5,010.00,R 48 880,00, 2.992,00 €)
Itinerary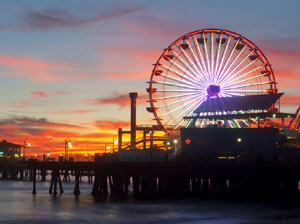 Santa Monica Pier, CA
Day 1: Meet you in Los Angeles CA
Welcome to Los Angeles, the 'City of Angels'. Meet the support team and you fellow riders at the designated group hotel near the motorcycle rental location (LAX airport area).
Tonight there is a little party where friendships will surely begin! Los Angeles is a huge metropolis with thousands of things to so, so may want to arrive a day or two earlier to sample life that California enjoys.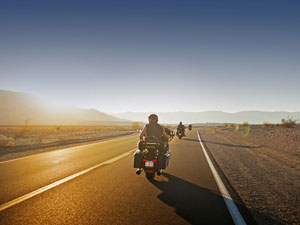 On the road to Victorville, CA
Day 2: Los Angeles CA to Victorville CA, 110 mi - 176 km
Time to ride your motorcycle! We do the paperwork and insurance then hit the road: first stop is Santa Monica the Western terminal of the legendary Route 66 where our 2,300 mile epic journey begins.
We are reversing the legendary road from Los Angeles CA to Chicago IL! In no time we are riding through LA downtown to catch the asphalt of Crest Highway: a Californian classic windy 2 lane road leading us towards Victorville CA.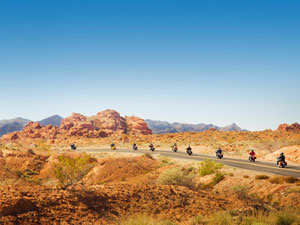 Laughlin is in the desert!
Day 3: Victorville CA to Laughlin NV, 215 mi - 344 km
Striking landscape greets our senses in the Mojave Desert: heat, sand, rocks, volcanic ash, Joshua Trees. A complete different terrain, harsh living conditions. Try to imagine the same road 80 years ago: frequent breakdowns, frustration and emptiness. All those migrants had just dreams and hopes of better life.
A few hours ride into the wilderness takes us to the banks of Colorado River with sights we only see in Las Vegas: just arrived to an oasis called Laughlin, NV. Tonight we kick back at the Tropicana Hotel which is situated along the Colorado River, and adjacent to the best steakhouse West of Texas!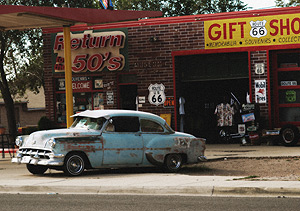 Williams: Getaway to the Grand Canyon
Day 4: Laughlin NV to Williams AZ, 150 mi - 240 km
One of the best rides is coming up: original 2 lane Route 66 cruisin'. First attraction is absolute must-see, the Old West Ghost Town of Oatman, Arizona. Wild burrows and winding roads, 122 curves down the hill towards Kingman. General store of Hackberry is next and then we have lunch in Seligman.
Salvage of Route 66 is originated from this very place, you will not be disappointed of what you find here: Route 66 at it's best. Another few hour's ride and there we arrive to the gateway of Grand Canyon: Williams AZ.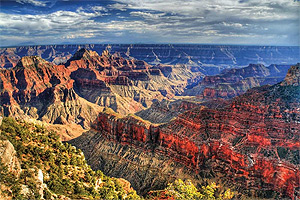 Grand Canyon
Day 5: Williams AZ to Flagstaff AZ, 165 mi - 264 km
Today is the Grand Canyon day: you can visit one of the natural wonders of our world. During thousands of Millenniums the Colorado River carved the huge canyons into the surface of the prairie. If you don't mind an early start, we can arrange a morning helicopter ride over the South Rim of the Grand Canyon. If you want to lie in just a little longer, that's fine too. There will be ample time to ride along the rim, stopping to admire the spectacular vistas, and making the best out of photo opportunities. If you still have time visit the IMAX movie, the show is starting every house and takes 45 minutes. Then it's finally time to leave the Grand Canyon and pick Route 66 back up in Flagstaff, Arizona.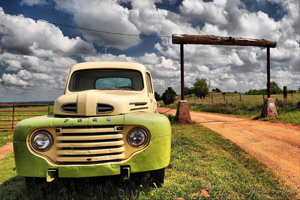 Day 6: Flagstaff AZ to Gallup NM, 296 mi - 493 km
Today's ride is not short of sights either: Just a little bit further East we will pass through Winslow and Holbrook – two old Route 66 towns whose livelihood is sustained by transcontinental truckers. "Standin' on the Corner in Winslow, Arizona", famous from the Eagles' 1972 song Take It Easy - yes, we will be standing on the corner! We no sooner enter an awe-inspiring ride through the Petrified Forest. The multiple layers of colored terrain might remind you of an alien landscape but what you are looking at is actually a fossilized prehistoric forest of gigantic trees unearthed over the centuries by erosion. Gallup NM an old railroad town - and a former Native American stronghold. Enjoy your stay where it's easy to strike up conversation with fellow riders from around the world at one of the town's numerous biker-friendly hotels.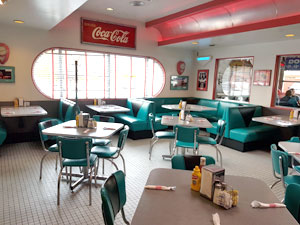 Albuquerque Route 66 restaurant
Day 7: Gallup NM to Santa Fe NM, 200 mi - 320 km
Heading East this morning we rode down to Albuquerque, New Mexico's largest city. Home to a third of the state's population, Albuquerque is a sprawling city situated at the crossroads of New Mexico, right at the spot where the main east - west road and rail routes cross both the old road south to Mexico and the fabled Rio Grande. Crossing this legendary waterway, we head East – all the way into the open country. Prepare to be overawed by the shapes and hues of this Navajo wilderness, with its steep cliff sides and table-top mesas. Then we head up into the High Plains and the slightly dizzying altitudes of Santa Fe in central New Mexico. Santa Fe is one of the oldest and most picturesque cities in the United States. It will be our base for the following two nights, in a hotel just steps from the historic town square and mission, in the heart of Santa Fe's Old Town.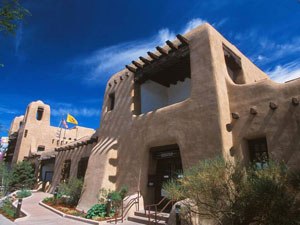 Day 8: Santa Fe NM - a day of leasure with pleasure
You have the day at your leisure to rest and enjoy the distinct character of this nearly 400-year-old city. The mix of cultures in Santa Fe is evident in the Southwestern architectural style. In any case there's no shortage of things to do in and around New Mexico's capital city.
Get up early and experience a hot air balloon trip at sunrise, be a cowboy for the day with a horseback ride on a mountain or canyon trail or take a ride along the river valley to Taos, an authentic Native American Indian 'Pueblos' or community.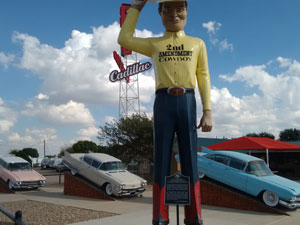 Amarillo, Cadillac Ranch
Day 9: Santa Fe NM to Amarillo TX, 290 mi - 464 km
Our ride takes us further East: dozens of gas stations, motels, and restaurants that attracted motorists during the history of the Mother Road. Tucumcari is a fine example of a once typical Route 66 town: home of 1,200 motel rooms. The Blue Swallow Motel is well preserved location still serving travelers of the 'Mother Road'. Soon we will be arriving to Adrian TX: this city is marking the half-way of Route 66, the sign reads 1,139 miles both East and West. After passing through the eccentric and colorful art installation known as Cadillac Ranch we arrive to the Helium Capital of the World: Amarillo TX. Our good buddies from "The Big Texan Steakhouse" will pick everybody up at the hotel in a fleet of old Cadillacs with giant bull horns across the hood. On tonight's menu are the finest steaks in the whole of Texas!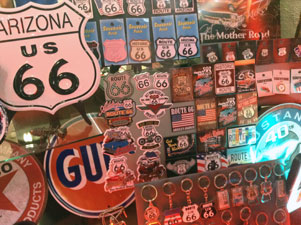 Day 10: Amarillo TX to Clinton OK, 180 mi - 288 km
On we ride, to another historic railroad town, this one dating back to 1902, Groom, Texas. Arguably its chief attraction is the neck-turning "Leaning Tower of Texas" actually just a water tank tipping perilously to one side. One leg of the Britten USA water reservoir is actually shorter than the others. It was built this way just to catch the tourist's eye and get them to stop for a while in Groom. Another attraction for the Interstate traveler is the Groom Cross. With a height of 190 feet, the Groom Cross is reported as being the 2nd biggest cross in the northern hemisphere. Built on private property it is visible for miles as you approach this panhandle town. Though it doesn't date back to the very first days of Route 66 it's definitely in the spirit of the old Mother Road. Oozing old time atmosphere, the small Panhandle town of McLean is a trip back in time to a true Route 66 experience. McLean's Devil's Rope Museum is dedicated to barbed wire, or the Devil's rope as it's sometimes called around these parts. The Museum features the history of barbed wire, and artifacts which are a reminder of the significance of this invention, and its impact on the Old West's development. The restored Phillips 66 Gas Station – Now this is truly history. Not only was it the first Phillips 66 Service Station in Texas, built as it was in 1927, but the gas pumps show the price of gas at a mere 19¢ a gallon! As befits its name, The National Route 66 Museum in Eric celebrates Route 66, not just in the state of Oklahoma, but all eight Route 66 states. The museum features a walk through scale model of all eight states focusing on the ordinary folk who lived, worked and traveled the old Mother Road. The murals are quite realistic and the exhibits include vintage automobiles and antiques from the bygone hey-day of Route 66. Clinton OK has got one of the finest Route 66 museums on the road. If you'd like to visit just only one museum we strongly suggest to see this one!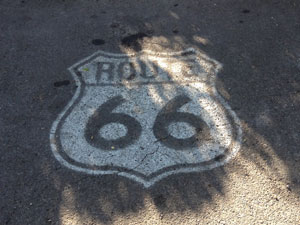 Day 11: Clinton OK to Tulsa OK, 195 mi - 312 km
Tulsa and Oklahoma City through what was known in the Old West as Indian country. In the 1830s this land, which was considered basically worthless, was set aside as Indian Territory. It became an expedient dumping ground for the so-called Five Civilized Tribes who had previously acted as a check on white settlement in the southern states. The Seminole of Florida, the Choctaw and the Chickasaw of Mississippi, and the Creek of Alabama were each assigned a share, and the rest was assigned to the Cherokee from Georgia, Carolina and Tennessee. The state still has a large Native American Indian population to this day. As you may or may not already know, "Oklahoma" is actually the Choctaw word for "red man". In the afternoon you'll ride to Arcadia, Chandler, Stroud, and Sapulpa, on your way to Tulsa, formerly a major hub in the American cattle and oil industries.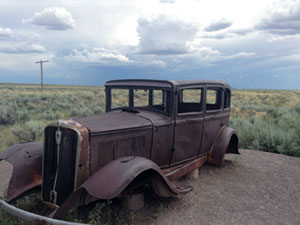 Day 12: Tulsa OK to Rolla MO, 290 mi - 464 km
A long ride today is coming up: we are leaving the prairies and arriving to the green and hilly Missouri. Lot's of sights are on our way to visit: the Blue Whale in Catoosa, the Vintage Iron Museum in Miami, the "Tow Tater" in Galena, Kansas (the inspiration for the tow truck Tow Mater in the Pixar movie Cars), the giant Drive-In Theater in Carthage, Missouri, and The Devil's Elbow just outside of Rolla.
This gorgeous ride from Oklahoma into Kansas and Missouri crosses through the Ozark Plateau, a highland region of the central United States characterized by lush forests, fertile farmland, river valleys and small mountain ranges.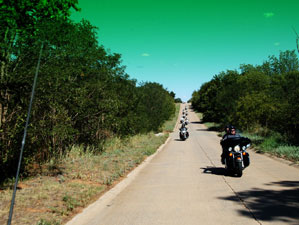 Day 13: Rolla MO to Springfield IL, 205 mi - 328 km
It's a nice idea to get up a little early before we hit the road. Take a short walk across the street and marvel the view of the St. Louis Arch and Mississippi River. Soon after we will have St. Louis in our rear view mirrors as we leave the city for the corn field of Illinois.
One thing's for sure, you should see the famous Dixie truck stop, "Our Lady of the Highway Statue", Litchfield and the "Ariston Café".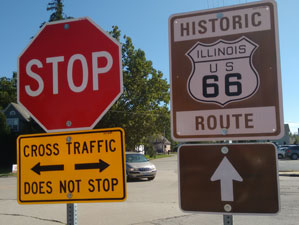 Last sections of Illinois
Day 14: Springfield IL to Chicago IL, 187 mi - 301 km
Along the way you'll see old-time diners and service stations which are a real slice of Americana. Riding South from Chicago, we will pass the old archetypal truck stop town of McLean, but we don't linger, instead we barrel through the coal-mining area of Illinois and continue along the Pontiac Trail, as this road used to be known. Today you'll get to visit the other famous Route 66 museum in Pontiac, as well as the iconic Gemini Giant in Wilmington. Your exciting motorcycle tour ends at the beginning today, as you make your way into Chicago, the eastern terminal of Route 66.
Day 15: Chicago IL, departure
Today your exciting Road Trip will conclude in Chicago. Please be sure to let us know if you need an extra night or two in Chicago to enjoy the sights. We can even arrange a discounted motorcycle rental!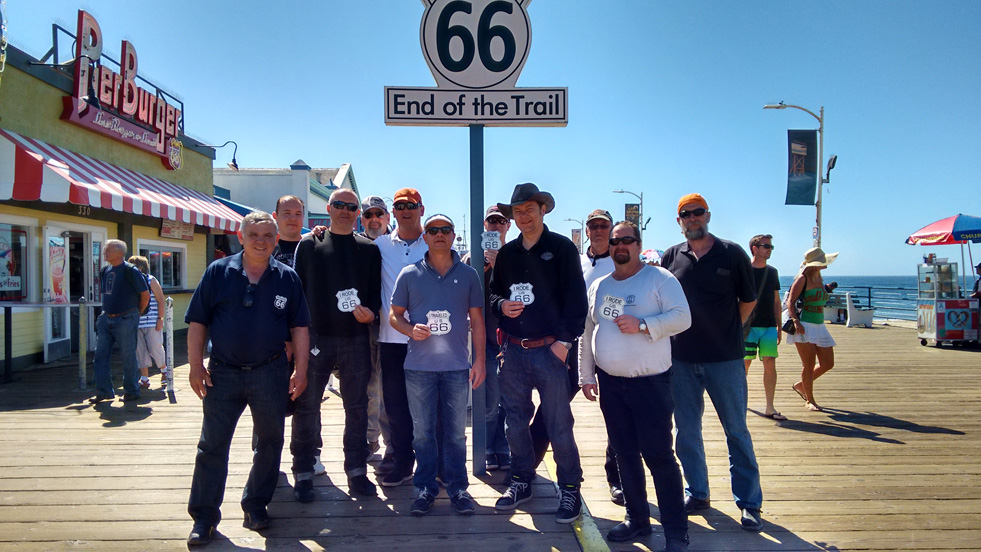 Cancellation terms
45 days or greater cancellation notice: No charge & refunded booking security deposit.
Cancellations received less than 45 days prior to the tour departure date will be subject to the following penalties:
44 -31 days cancellation notice: Up to 50% loss of total Tour Fee to cover hotel & other costs. Rental Voucher for the remaining amount for future travel.
30 days or less: Up to 100% loss of total Tour Fee. Rental Voucher for any remaining value for future travel.
Because of the chance of illness, accident, airline inefficiency, company insolvency or other unforeseen situations that may cause a customer (you) to miss a tour, we suggests to purchase travel/medical/health/trip cancellation insurance. It is a little expense that gives you piece of mind, highly recommended!
To book this tour we need following information from you:
Rider(s): name, nationality, required insurance option(s): VIP Zero, VIP, SLI, 1st and 2nd motorcycle model choice, room type: one or two beds in room? Any additional hotel rooms before or after the tour?
Pillion(s): name, nationality
Booking deposit: $1,000 per motorcycle
Final payment: 6 weeks before tour commences
Payment method: wire transfer to our bank account or can use your credit card to enjoy extra insurance protection by your financial institution but in this case we need to add 4.4% transaction charge on top of your bill. We also accept personal checks (scanned to e-mail or mailed to our office).
Please note: please do not purchase international airline tickets until tour is confirmed by us!